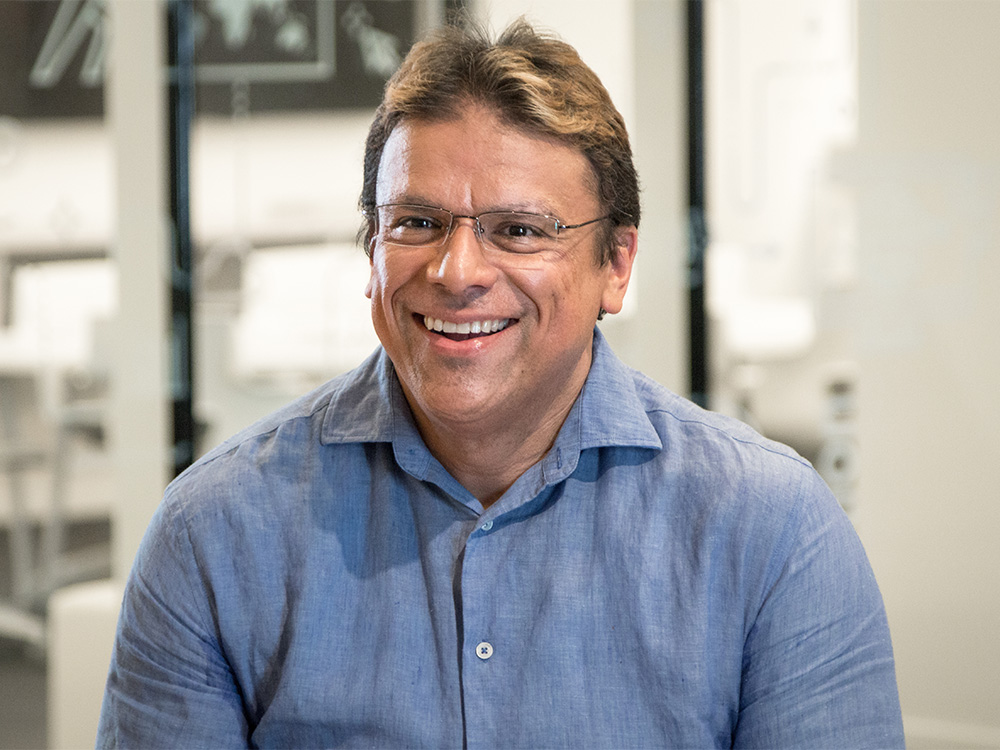 TRIOTECH: Fun as a business model
Ernest Yale's Story
Friday, September 29, 2017
TRIOTECH has been installing immersive attractions at amusement parks and developing fun educational experiences for museums and aquariums around the world since 1999. As the head of the Quebec company, Ernest Yale has built a solid international success.
At 18, Ernest Yale called the City of Montreal to find out how to register a business. After being told that he needed to get in touch with the business registry office, he went on to found his first company, which sold computers, when he was still a student. His goal was simple: to earn money without having to be an employee, thus preserving his freedom to develop other projects on the side.
Entrepreneurship as a measure of independence
As a child of Polish immigrants and due to his unusual educational background—he took six years as a part-time student to complete his degree at Polytechnique Montréal—Ernest Yale credits his path to entrepreneurship to happenstance.

His second company was a software development and consulting firm he founded with a friend. Ernest recalls that they had no firm idea of where the business was headed. One of their clients approached them with a mandate to develop the software for an arcade game—this was the entrepreneur's first step into the world of entertainment and he hasn't looked back since.
"A company like ours needs to invest in its human intelligence. Our wealth likes mainly in our team. There are no cost savings to be gained in human resources."
Ernest Yale
Conquering foreign markets first
Noting the rising growth happening in the entertainment industry, Ernest founded TRIOTECH with that first client and another associate in 1999. They quickly gained a number of contracts internationally, first in the USA, then in Asia, Europe and the Middle East.
See also: Four ways of breaking into the international marketplace
"TRIOTECH is 99% exportation. Our market is pretty big internationally, but pretty small locally. So finding other opportunities outside of our home territory is part of our DNA." Ernest recalls a long car trip the first month after the incorporation of his company in order to represent the firm at an international conference in Atlanta, the IAAPA—a huge gathering of entertainment and amusement park industry professionals. As he was driving, he wondered whether it wasn't a little too early to be presenting projects that were still in their infancy. But since then, the company has never stopped promoting a corporate culture of thinking big. Ernest explains that the reason he was able to land contracts in Japan and the Middle East was because he invested in promotional events and commercial trade shows.
"We sell experiences, so it's not uncommon for us to travel with our equipment. We invest many hundreds of thousands of dollars to present our latest creations—it's what distinguishes us from our competitors. We won't hesitate to put our money where our mouth is. Because we follow through on our ambitions, 18 million people worldwide, every year, enjoy a TRIOTECH experience on big rides or arcade machines."
TRIOTECH is at the heart of innovative entertainment
TRIOTECH's offering is based on innovative products such as 3D projection and synchronized movement using actuators—products that require massive investment in terms of research and development. The company aims to offer ever more unique experiences that push the boundaries of what is possible.
Today TRIOTECH enjoys a two- to three-year head start on its competitors. It remains on the lookout for the next products and techniques that will revolutionize the entertainment industry. In recent years, the company has evolved its business model by teaming up with operating partners like the AMC film group, with whom it launched its immersive experience Fear the Walking Dead in Las Vegas in the summer of 2017. Such partnerships guarantee box office revenue that can be re-injected into research and development—a virtuous circle that will support TRIOTECH's drive to continue innovating in the entertainment sector.
TRIOTECH in Numbers
50: Number of countries in which the company has a presence
72 millions: Number of users of TRIOTECH attractions since 2005
250: Number of attractions worldwide
Want to learn more?
Visit TRIOTECH's website