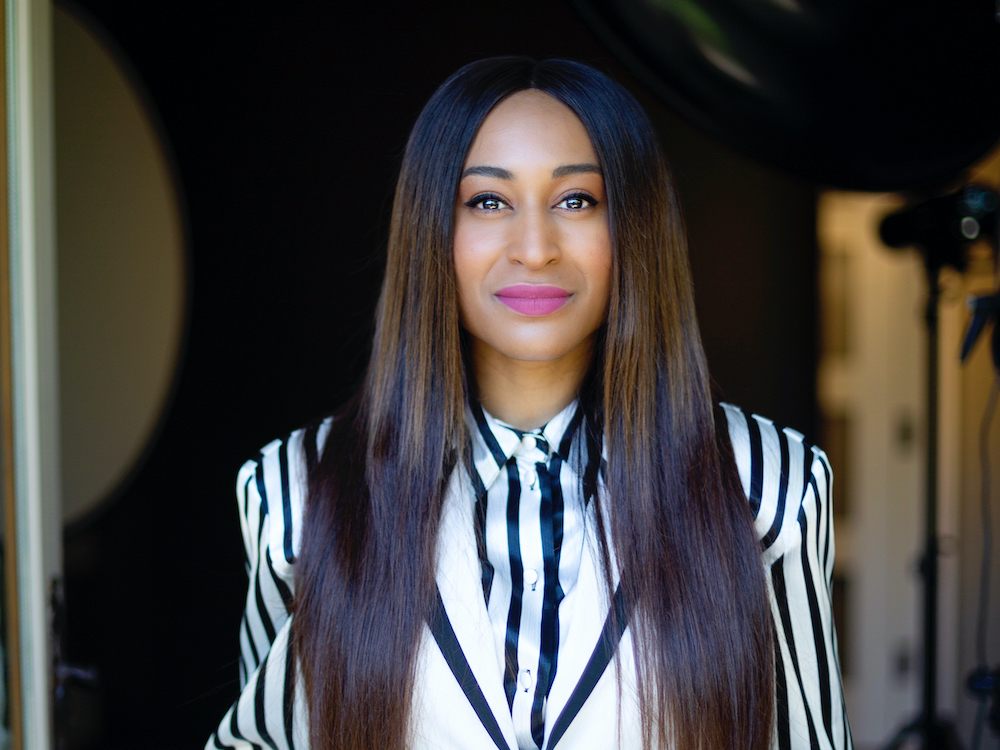 V Kosmetik: Diversifying the Makeup Industry One Shade at a Time
Vickie Joseph's Story
Friday, February 25, 2022
Once upon a time, there was a black woman who couldn't find any beauty products that were designed for her and her skin's unique needs. This premise is far too familiar for many people in marginalized groups, like Vickie Joseph. By founding V Kosmetik, the Montreal-based entrepreneur felt it was high time to rewrite the story of those left behind by the makeup industry.
"There was a gap in the market. A few years ago, we weren't able to find products that represented us and that were made for our skin." It was in response to this glaring deficiency that Vickie wished to nuance beauty products' supply. Since 2017, V Kosmetik has been making up for the industry's lack of representation by offering a multitude of shades to match a vast range of skin tones.
DIVING INTO ENTREPRENEURSHIP WHEN NO ONE LOOKS LIKE YOU
Vickie, like many black women in North America, didn't know any entrepreneurial figures who resembled her when growing up. She found her inspiration on her television screen: Oprah Winfrey. This scarcity of role models is telling of the often atypical, arduous and solitary journey that women, especially black women, must take in entrepreneurship.
"I was mostly alone in my fight to pave the way. But at every step, I could take up more space and bring others along with me."
It must be noted that the birth of Vickie's entrepreneurial project coincided with the loss of her job in the middle of a pregnancy, a situation that caused her great hardship.
Frantz Saintellemy, her husband and business partner at Groupe 3737, an ecosystem of job creation that prioritizes diversity and inclusion for people going into business, ignited the entrepreneurial fire within her. "It was my husband and the people around me who helped me gain confidence in myself."
CONFIDENCE: THE KEY TO SUCCESS
When Vickie took the leapp into entrepreneurship, she didn't have the same confidence she has today. "I was extremely scared, I was nervous, I didn't have confidence in myself. I was influenced by our society's climate, it affected me a lot."
"That's why I want to help so many women. If I had known women entrepreneurs who could have given me the right tools, I would have gone much further, much faster."
It was through personal encounters and victories that Vickie was able to build up her confidence, little by little. Realizing that women were happy to see a company like V Kosmetik representing them, speaking up for them, was a big part of it. "Simply being a woman, let alone belonging to diversity, being a woman and being in business was exceptional!"
If Vickie had one piece of advice to give to her younger self, in the first years of her entrepreneurial journey, it would be to simply have confidence in herself. "Follow your gut as a businesswoman running your own company. You know better than anyone else."
DOING YOUR HOMEWORK TO GROW
According to Vickie, this self-confidence is key to managing the growth of your business. You also have to know your market, do your research and continually study your customer base. "You can't grow without surrounding yourself with the right people, without having a good plan and without doing your research!"
Market research is not a mere task to be checked off and forgotten. "You have to constantly ask your customers what they want, what they need, whether they have a problem or need something new from your products." Keeping one's finger on the pulse of the market is all the more important when it comes to expanding into a new territory. As Vickie sums it up: "You have to do your homework."
While a three-to-five-year growth plan is necessary, you must also remain agile. V Kosmetik's priorities have changed over the years. "My business model is always evolving, while maintaining its core mission of meeting the needs of underserved groups." She elaborates by mentioning people with severe skin conditions, namely vitiligo, or other specific disabilities.
FACING THE INEVITABLE
This agility helped V Kosmetik weather the pandemic, even though its sales dropped by 70% in the first quarter of 2020. Inevitably, mask wearing, telecommuting and closures made makeup, and its retailers, much less popular.
"We're working on apps and innovations in artificial intelligence to allow our customers to shop even better online."
Another looming challenge that cannot be overlooked, both for V Kosmetik and the industry, is the eco-responsibility of makeup. "The amount of packaging that is thrown away and that cannot be recycled represents a big collective issue."
There are many challenges that Vickie will be able to tackle with all the confidence, the market understanding and the empathy for the underrepresented that she is known for. That's the beauty of entrepreneurship: a nuanced journey better prepares us for adversity.
A FEW FIGURES
150 : the amount of makeup and skin care products available
52 : the number of shades available to match different skin tones
2,5 millions : the number of dollars invested in research and development
30 % : the percentage of increase in sales in 2021
6 : the number of countries in which V Kosmetik is sold
10 : the number of people in the team
WANT TO KNOW MORE?
Browse V Kosmetik's online store