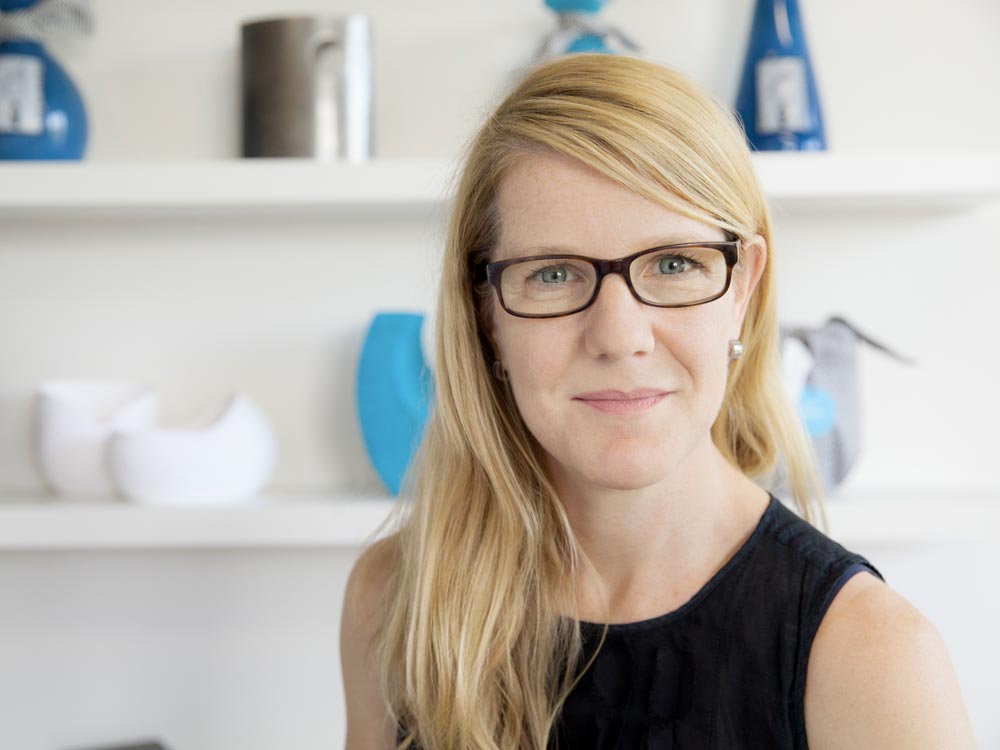 Muses Urnes Design: Life after death
Words of Wisdom from Marie-Claude Lemire
A lawyer by training, Marie-Claude Lemire worked in the legal sector for several years before starting her own business, Muses Urnes Design, which offers an extensive range of funerary urns that are distinctive, innovative and contemporary in design and destined for adults, children and even pets. She came up with her business idea after the death of her father-in-law.
A FUNERARY URN THAT CAN TRANSFORM A TREE AND SOMEONE'S LIFE!
Reid Hoffman, the co-founder of LinkedIn, said "An entrepreneur is someone who will jump off a  cliff and assemble an airplane on the way down." I love this idea, even if it makes me dizzy!
My beginnings
While I never jumped from such heights, or risked that much, at the same time I did do my homework by developing a great business plan during the short second year of my entrepreneurship program at UQAM. With four children and a permanent job with the government, I certainly had a relatively comfortable life. Since I had been interested in entrepreneurship for a long time, I decided to follow my instincts and take my chances while telling myself that unattempted endeavours always fail! That's how Muses Urnes Design was born.
After the first year, however, I realized that the beginnings of a new business are often critical times that are punctuated by difficulties. I had experimented with things to the point where I needed to pivot the company. I even thought about getting a tattoo of that Churchill quote "Success is not final, failure is not fatal: it is the courage to continue that counts"! 
Learning to adapt
Our business model, which combined e-commerce with sales at funeral homes, did not provide the expected results. In fact, other than the fact that my urns were mid- to high-end, I realized that buying funerary products online was not yet a consumer reflex amongst Quebecers and our business model was incompatible with the philosophy of funeral homes.
In tandem with this first collection, which I employed artisans to produce, I was working on developing an ecologically friendly funerary urn that would transform into a tree. This was an eco-design project I developed in collaboration with INÉDI, a CCTT (Centre collégial de transfert de technologie) in industrial design. I knew that I would have to combine creativity with innovation in order for this urn to be a success. 
Inventing new bio-materials in order to fabricate the urn allowed us to solve several major problems, such as the viability and growth of the tree. The fact is that the pH of human ashes is so elevated it can suffocate the roots of young plants, so we needed to find new methods to make this work. 
In the end, not only did the new urn biodegrade in two weeks, but the recycled coffee grounds and lime we chose as materials promoted the growth of the tree and neutralized the pH of the ashes. Without this innovation, the concept never would have worked. 
After 18 months of research and development, a prototype of our new ROOTS urn was born, followed by a crowdfunding campaign that exceeded its objective. People loved the idea of eternalizing life through a tree. It's a highly symbolic ritual where one's memory becomes a living thing, and through which cemeteries can be transformed into forests. We also developed a version for pets to respond to growing market demands.
Corporate citizenship
ROOTS is perfectly in sync with my values of supporting local business and the circular economy because the company is completely based in Quebec and we reuse Starbucks coffee grounds to make the urns. It makes me very proud to contribute to a more socially responsible economy. 
ROOTS has since received ecological certification from the Green Burial Council, has won an award at the Grands Prix du Design 2017 and has been nominated for an award at the German Design Awards 2019.
As opposed to our first collection, ROOTS is sold exclusively through funeral homes in Quebec, Ontario and the Maritimes via a funerary distributor. For other markets, and for the pet version, the urns are available online. 
Sometimes good news comes in batches and you just need to stand back and accept them! I was immensely privileged to present ROOTS last May at C2 Montréal thanks to the Bronfman Family Foundation, which oversees the Emergent Entrepreneur contest. That was one of those unforgettable moments of realizing I had made the right decision when I first decided to leave my gilded cage.
Looking back, I'm immensely proud of my career path. Although I feel like I not only built the airplane while I was falling, but the landing strip and the airport as well, I still love my new life! I have great plans for Muses and I hope ROOTS will bring some comfort to the lives of the bereaved. When one life ends, another begins.