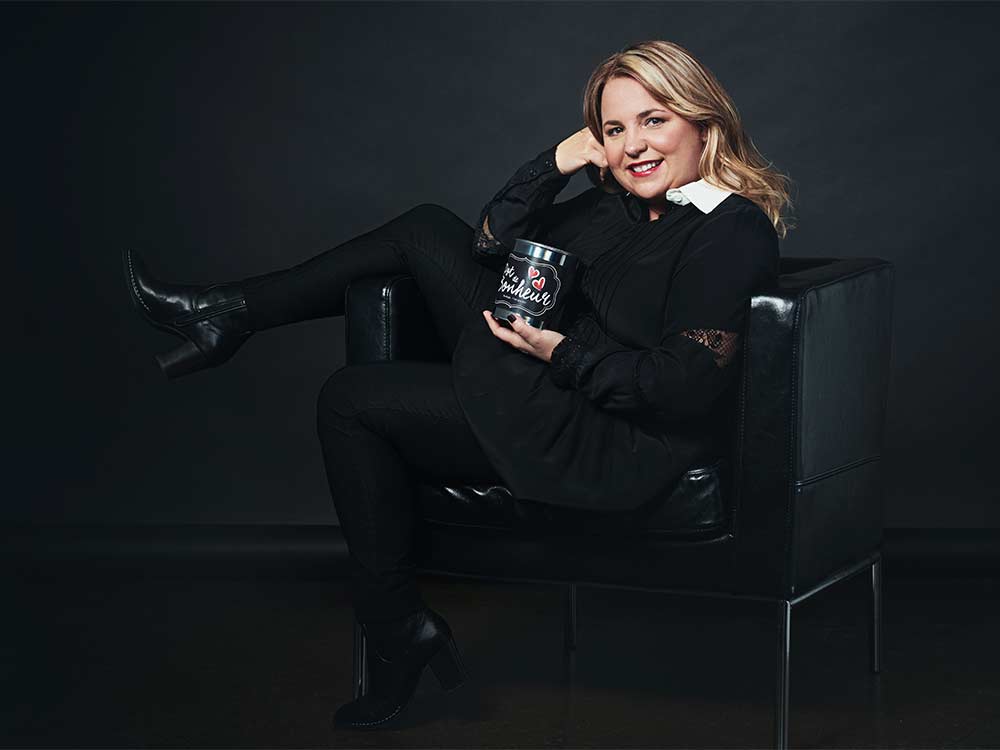 Thinking outside the box
Nancy Couture's Words of Wisdom
Founded in 2014 by Nancy Couture, Créations NC5 is experiencing strong growth. The entrepreneur has always been a big proponent of positive thinking, and after a period of working very hard she finally landed on her business idea. Two years later, the Happiness Box (and its French counterpart, Pot de Bonheur) appeared on the market, with sales reaching 75,000 copies and available at 450 points of purchase across Canada.
From the start of my entrepreneurial adventure, I had a clear, precise idea of what my project would be, which meant I felt 100 percent sure of what I was doing. This life plan is what keeps me going. It all started with a crazy idea I thought up while sitting in my kitchen one September day in 2014. Having been on my own for quite some time, since my children had grown up, I did some soul-searching and decided I wanted to have an impact on people's lives.
The project
After reading a few things about positivity and recognizing everything those ideas had given me, I thought, Why not give others the same dose of positivity? I felt I had really hit on something. So I set to work and in no time I collected 365 of the most beautiful quotes in the world. And that's how my mission started. I created the Happiness Box, an incredibly effective tool considering it came from such a simple idea!
From that moment on, my career as an entrepreneur started and nothing could stop me. I was ready to tackle whatever came my way, in recollection of one of my favourite quotes, which read: "Only flexible trees survive big storms." And believe me, I became a very flexible entrepreneur! Along the way I met a lot of great people and lived a life rich with experiences.
I still have a lot of projects in mind, especially in terms of exporting. We already have a few points of sale in the U.S. and we will continue to develop that market this year. We will also be crossing over into Europe this coming May with Groupe Desjardins during a trade mission to Paris in order to promote Quebec entrepreneurs on the international scene. These markets are really interested in our offering and, as I often say, happiness has no borders!
Inventing your own life
Can you invent your own life? My answer is YES, BUT you have to be ready to deal with change and bureaucracy that can be complex, you have to knock on a few doors and, of course, you have to be ready to take on new responsibilities. I strongly encourage people to pursue their dreams to their limits if they think they have something important to share with others. But here's a bit of advice between friends: Be sure to surround yourself with good people and build a solid, responsible team that can both help you with your responsibilities and follow your lead!
Testimonials
I am very proud of my products, which are made 100 percent in Quebec, and of my team, which is composed of young people from my region who have been with me from the beginning. What motivates me to continue are the moving testimonials I regularly receive. Many people have told me how much the Happiness Box has been able to help them through illness or while they have been staying at a rehabilitation facility. I've even heard a few good love stories that came about because of a Happiness Box quote, as well as just simple thanks from people who got their day off to a positive start because of the Happiness Box! We've also received notes of gratitude from people who have used our questionnaire game, Around the Fire, to start off big, important discussions with those close to them. When I hear about all of this and read all these beautiful testimonials, I realize how lucky I am to be able to pursue my life's mission every day.
I'm convinced that the planet needs my little helping hand. And I'm not finished yet! I'm still very enthusiastic about my project, because happiness, in my opinion, really has no borders.
­ If you can dream it, you can do it.
–Walt Disney
WANT TO LEARN MORE?