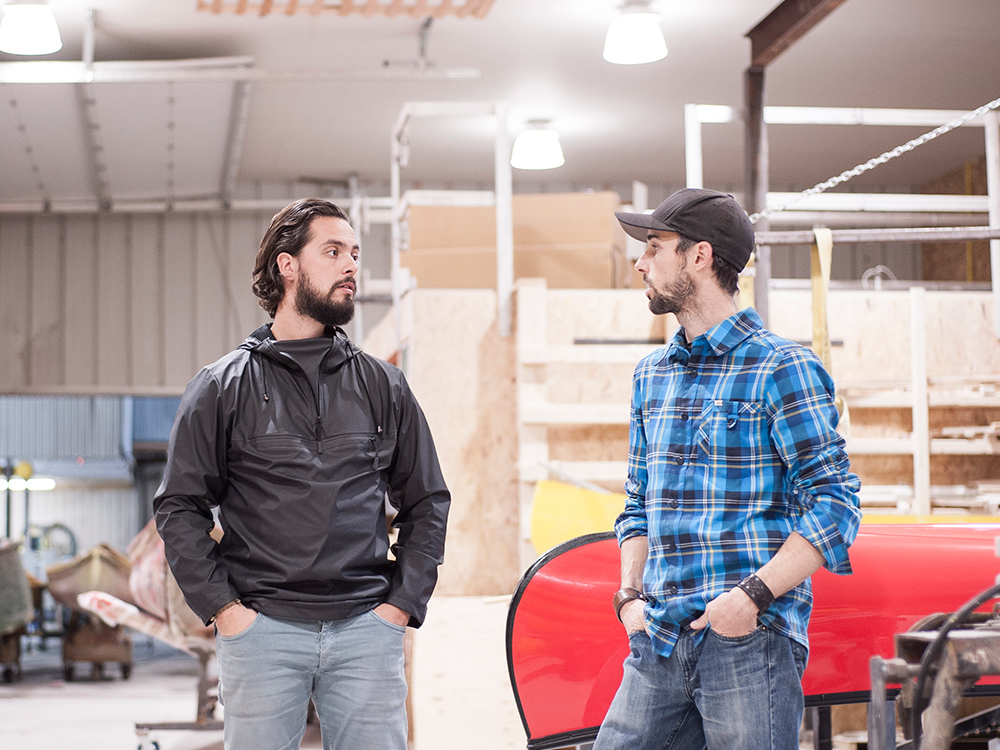 abitibi & co.: entrepreneurship meets the outdoors
Jean-Daniel Petit's Story
Jean-Daniel Petit is the co-founder of abitibi & co.: a Rouyn-Noranda-based business that manufactures hand-crafted canoes and kayaks. He is a true portrait of an entrepreneur, a lover of the great outdoors, and someone who has developed a strong brand presence through his environmentalist values.
It was in fact the idea of Jean-Daniel's partner, Guillaume Leblanc, to take the first plunge into entrepreneurship. Though he spent half his time with one foot in the oil sands and the other in the lakes of Abitibi-Témiscamingue, he was starting to notice a rift between his values and those of his employer. This prompted him to visit a canoe factory just a few kilometers from his home in Rouyn-Noranda, to discuss investments.  But before having the chance to meet with the owners of Mid-Canada Fiberglass, a dying company, they were forced to close shop. Guillaume made the decision to revive the company by taking up the torch.
Needing advice on how to rebrand the company's previous image, he turned to his childhood friend Jean-Daniel, who at the time was a creative director at an advertising agency.  While brainstorming a name for their new company, Jean-Daniel suggests building on what they have in common: their native region. In Algonquin, Abitibi means, "Where the waters divide," an appropriate name for a region with 22,000 lakes and for a brand that encourages people to discover and protect the great outdoors. 
Jean-Daniel gradually got swept up by the current and jumped into the adventure as full-time marketing director in August 2015. "The challenge is to be there when things are unpredictable. It is when things go wrong that your presence counts the most," he says.
Creating a framework for teamwork 
The company has grown since their production launch in January 2015. The team is now 22 people strong; ensuring the 60-step process of assembling a kayak goes smoothly. Assembling a canoe, from the design stage to the final touches, has between 12 and 16 steps, the equivalent of 10 hours of work. 
Photo credit: Alex Strohl
Drafting the abitibi & co. business plan took several months, and Jean-Daniel still believes, to this day, that it is not complete.
"A business model is a living thing, it never stops growing. It adapts to and feeds on its environment "
He believes that it is important to adopt a philosophy and be consistent when it comes to making decisions. Whether it concerns human resources policies, the choice of suppliers or even the profitability profile, the company's philosophy, is a guiding force. 
Content that encourages you to discover the great outdoors
abitbi & co counts on their high-quality products to ensure sustainability. For the two founders, it is critical to invest in the development of sustainable practices by making the environment a key partner. They even have a program whereby for each boat sold, the equivalent of a bag of garbage is removed, by hand, from rivers, lakes and forests. 
Beyond the manufacturing of boats, abitibi & co. wants to protect the planet. Its action plan involves the creation of branded content for a variety of platforms. Through this strategy, the company reaches more than 1.7 million people.
The two entrepreneurs use their social media presence to encourage people to chart their own course and raise awareness about environmental issues.
 
An inspiring Instagram post from. 
In fall 2016, Guillaume and Jean-Daniel plan to launch Beside, a semi-annual, bilingual magazine with contributors from their region, but also from Norway and throughout the United States.
And what is the purpose of the publication? To make the outdoors accessible." Many people believe that you have to be equipped from head to toe to enjoy the great outdoors. But there is no need for a Gore –Tex outfit and $500 boots to hike up Mount Orford.  What's really exciting to us is that creativity has made its way into the outdoor industry," shares Jean-Daniel, who wishes to connect with all those who believe that nature is larger than any one individual.
Crédit photo: abitibi & co. 
Abitibi & co in Numbers
2: sales in millions of dollars 
22: the number of employees
1,250: canoes and kayaks sold in the past year and a half.
1,500: the number of canoes and kayaks that will be manufactured within the next two years
Want to learn more?
Visit abitibi & co.