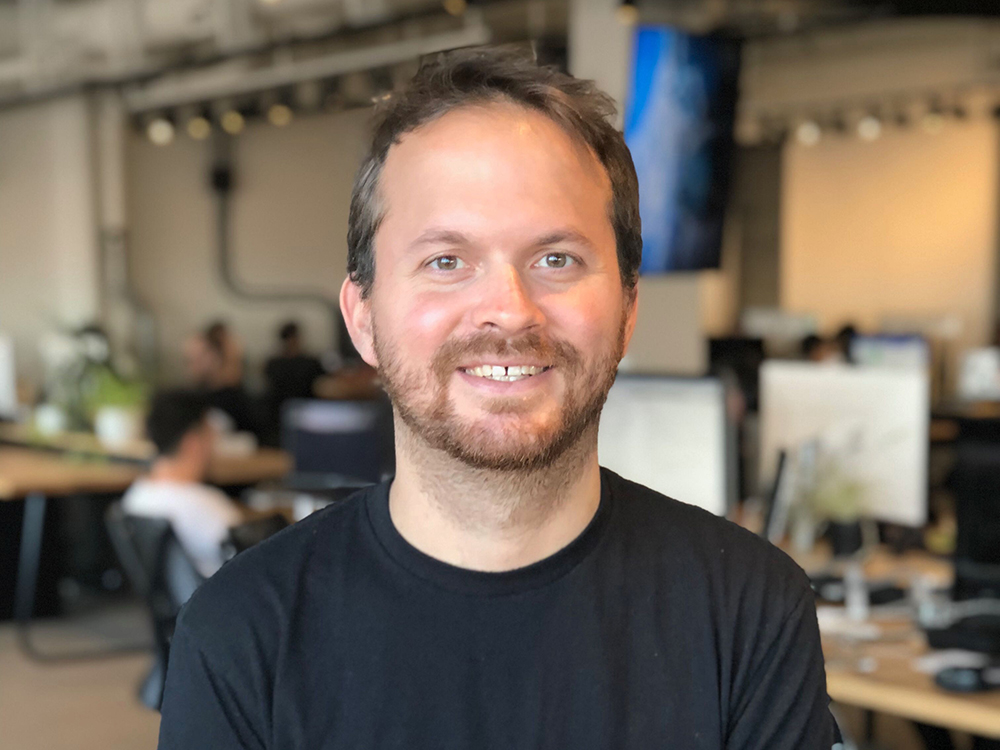 The app that's changing urban mobility
Sam Vermette's Story
A self-taught programmer, Same Vermette was unhappy with the precision of available real-time transportation information, so he came up with an idea for an application that used geolocation to advise users on upcoming bus departures in their area. But what started off as just an app turned into a company that now helps millions of public transportation users in 200 cities around the world.
Sam Vermette learned how to program on his own when he was still in high school. Over the years, he developed websites and applications for himself and others. "My entrepreneurial approach was naive—I did all that as a matter of course, without thinking too much about the business aspect," explains the CEO.
After his university studies in industrial design, Apple released its first iPhone, and he recognized an opportunity to develop practical applications, which ranged from budget management to notifications about when certain artists would be appearing in Quebec.
"Basically, the idea always came from a desire to solve certain problems, then other people would use them and that's when I realized that I was responding to real needs"
Sam Vermette
That was also how the app Transit came into existence—out of a desire to improve public transportation information so that users could be informed on the upcoming departures of buses in the vicinity. 
From product to company
Vermette then met Guillaume Campagna, who had experience in creating applications like Transit as well as technical expertise Vermette himself did not have. They became partners and launched the first version of Transit in 2012.
"Once again, we saw ourselves more in independent development mode, without really having a business model other than asking for a payment for certain functionalities," he explains. "After a year, we realized that it was really a personally enriching project, but with two of us, we wouldn't be able to live off that for long."
In the meantime, the app had received an unexpected helping hand that would increase its popularity just a few weeks after its launch: Apple announced that it would no longer be including the Google Maps app in version 6 of iOS. "Since it wouldn't be offering this service anymore, it could promote independent applications for public transportation," explains the co-founder. "Which is what they did, since they found that Transit was well designed, and so they directed a lot of users to us."
In 2013, the pair submitted an application to the accelerator FounderFuel, which is where everything clicked into place. "The team made us realize that Transit could become a company that could influence the travel behaviour of people in cities, given that we developed a business model," he states.
The two entrepreneurs then received financing to the tune of $50,000 and founded their company the same year. "Our partner, Real Ventures, believed we first needed the app to be completely free, since only 10 percent of users buy the paid features," emphasizes Vermette. "For the other 90 percent, those terms were restricting their use."
They also needed to make the app available on Android, which they did.
These two changes greatly spurred the growth of the company, which continues to exist thanks to continual improvements to the application and additions of new services such as Bixi and Communauto.
Before and after the STM
Agreements made with public transportation agencies in various international cities—such as Calgary, Boston, Edmonton, Las Vegas and Baltimore—marked a turning point for the tech company. Today, Transit now has 50 such partnerships.
"These agencies have a powerful communication channel for informing their users about our app's existence," he explains. "This provides Transit with publicity and thereby increases our number of users."
Montreal was the 26th city to enter into a partnership with the company—the largest such agreement in its history. "These agreements usually enable us to achieve 300 percent growth in one year," he adds.
The idea behind this type of partnership involves, for the transportation agencies, helping users choose the best application for getting around in their city by recommending anywhere from one to three app options, depending on the agreement. In exchange, Transit improves its application, adds personalized links (such as for pricing) and shares its data, particularly on the routes users take the most.
"Urban transportation is in constant evolution—just think about the Jump bikes that appeared, and soon scooters, which have an effect on mobility in the city," explains Vermette. "We're positioning ourselves as an aggregator of all these modes of transportation so that people don't feel lost amidst all the different options." 
Transit now has a team of 50 people working continually on updating the application, both in terms of public transportation as well as for other modes of transport.  
Reinventing mobility
The success of Transit's business model is due to the app's popularity and the partnerships reached with transportation agencies. But more users doesn't mean more revenue.
While certain agreements include commissions on particular sales, such as tickets or subscriptions to some services through the Transit platform, the revenue to achieve internal growth at the company mainly comes from investments of venture capital, in particular five rounds of financing to date. The most recent enabled the company to receive US$17.5 million from major auto manufacturers. 
In the next few years, Transit intends to continue its mission to be the main platform for urban transportation. "We're currently trying to see how we can influence people's behaviour, to get them to take one particular modality rather than another when one is already full or is slower," he states. "We think this aspect has a greater potential to improve the human-scale livability of cities by giving them back to the people."
Transit in Numbers
200: Number of cities in the world that use Transit
$17.5 million: Amount received during its latest round of financing
50: Number of partnering transportation agencies
70: Number of employees envisaged by the company by the year 2020 
WANT TO LEARN MORE?
Visit Transit's website