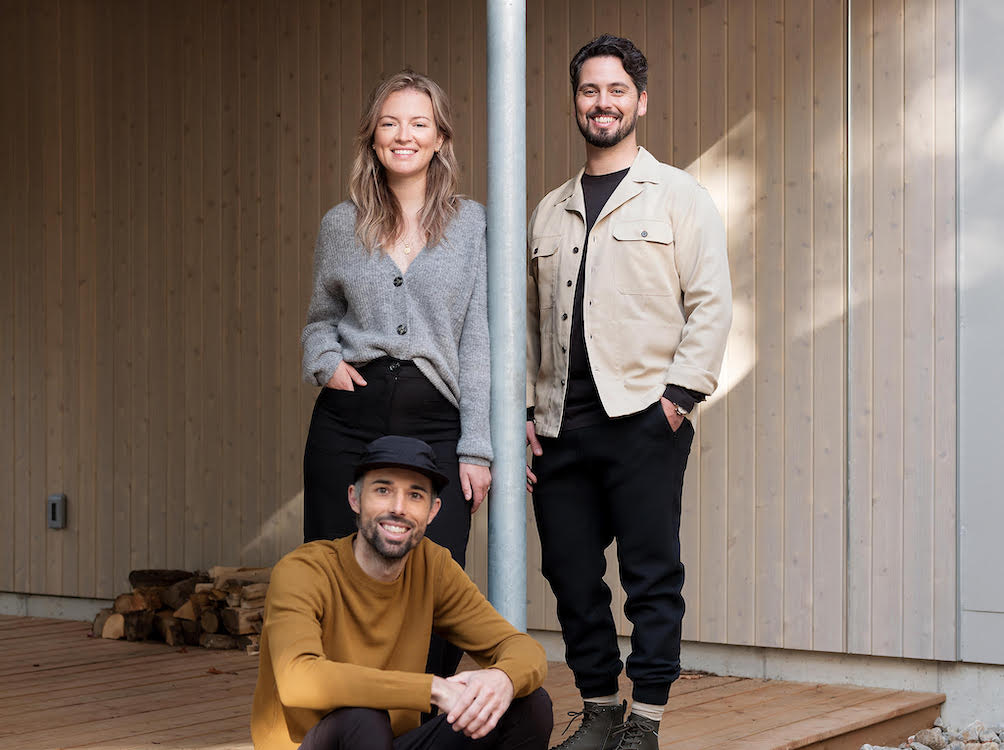 BESIDE: Growing in harmony with people, culture, and nature
The story of Jean-Daniel Petit, Guillaume Leblanc, and Eliane Cadieux
The three minds behind the BESIDE brand have been working to bring people and nature together since 2016, by developing editorial content and immersive experiences.
Its new subsidiary, BESIDE Habitat, has broadened the company's mission, to include building cabins and public spaces in Quebec's Lanaudière region where the "Besiders" community can meet up. "We have a vision of creating a space where people sharing the same value system can come together," explained co-founder Eliane Cadieux.
BRINGING CULTURE AND NATURE TOGETHER
From its beginnings, the BESIDE story has been all about friendship. Jean-Daniel Petit and Guillaume Leblanc are childhood friends who grew up in the same village in Abitibi-Témiscamingue. They went into business together and started abitibi & co., which manufactures canoes and kayaks from molds the partners bought from a factory that had gone bankrupt.
Eliane first met Jean-Daniel in the advertising industry, where the two worked together on and off for more than 12 years—including on the visual identity for abitibi & co. Along with Guillaume, they came up with the idea of creating something new; something that would go beyond the outdoors and environmentalism. And that's how BESIDE emerged.
"We launched BESIDE Magazine with the intention of making a design object—something that could discuss topics related to sustainable development but without an alarmist tone. Our vision was and remains to use culture to get people out into nature," says Eliane.
WHERE PRINT AND ONLINE MEDIA COME TOGETHER
BESIDE Magazine has been published twice a year since 2016, with a growing readership across Canada and the United States. In addition to the print publication, BESIDE regularly publishes articles, essays, in-depth dossiers, and even a web series on the brand's digital platform. "Our website is designed to be agile, which makes it easy for us to try out new things," explains Eliane.
"The web series continues to grow, and we've been thinking of adding a podcast. And our series of articles on a particular topic let us dive into subjects in a more in-depth way, so we'll definitely explore that format more in the future."
A PROJECT THAT BRINGS PEOPLE TOGETHER AND PROTECTS THE LAND
Jean-Daniel was once asked whether BESIDE would eventually make any spin-off products. On a whim, he replied: "If BESIDE made an object, it'd be a cabin in the woods."
It would take serious creativity to make a project like that work without millions of dollars up front, but BESIDE was up for the challenge. They came up with an innovative business model: BESIDE Habitat was able to see the light of day thanks to outstanding partners, and founding members who are involved in the project and the financing of their own BESIDE cabin.
Located one hour from Montreal, the cabins can be rented through the BESIDE Habitat website. "This is a multi-phase project. We have about twenty cabins already built, and others now under construction. Common spaces will be built in the spring of 2023," Eliane added.
A BOON FOR CONSERVATION
And that's just the beginning. BESIDE Habitat has plans to protect 500 million square feet of natural land by 2030. This huge conservation effort has also meant growing the team to include more and diverging areas of expertise; BESIDE Media has gone from a small cocoon of a dozen people to a dynamic team of 42—and counting!
"Jean-Daniel and I have a background in design, so we weren't really prepared to be in charge of construction foremen and architect reps, or in-house urban planners and grounds maintenance teams… But we're happy to pivot and adapt to our company's consistent growth!" Eliane explained.
People have been so enthusiastic about the project that the company is already looking at a second BESIDE Habitat location, which would both respond to public interest and also protect and preserve more of Quebec's beautiful landscape.
A FEW FIGURES
42 BESIDE Media and BESIDE Habitat employeest
1.7 million pageviews each month approximately
460 points of sale for the magazine in North America
900 acres of protected nature to this day
13 cabins available at the moment and this number will rise to 75 in the coming years
WANT TO LEARN MORE?
Visit the BESIDE Media website to read their latest articles and to order the next edition of their print magazine, and visit BESIDE Habitat to plan your next getaway.