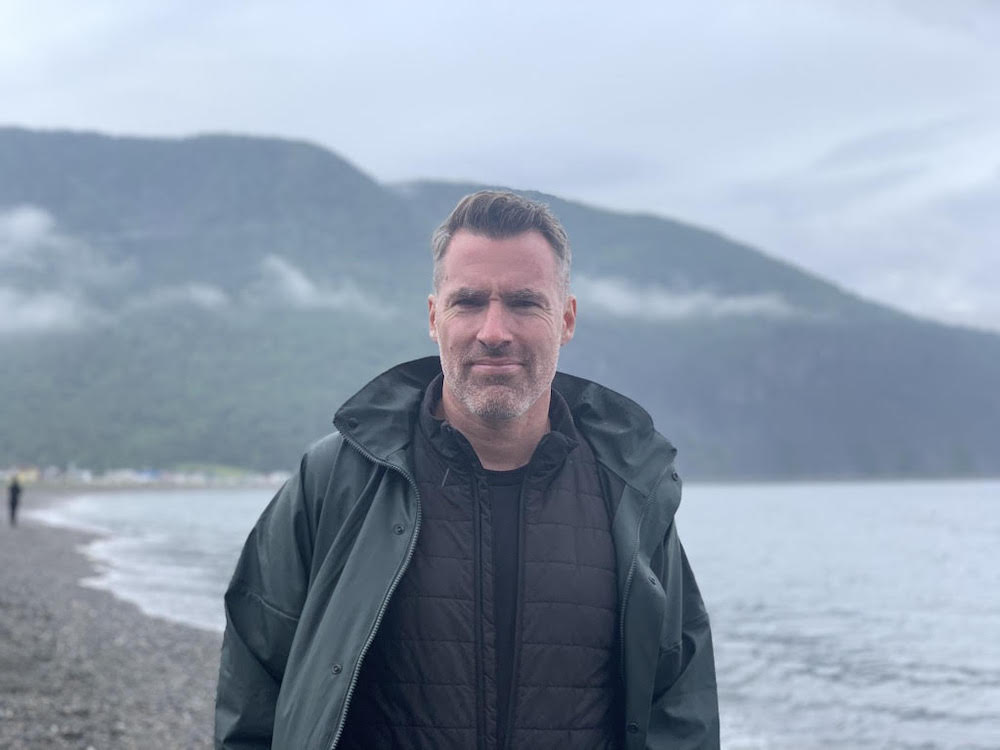 Trackz Mobility: All-terrain wheelchairs to make the outdoors accessible to everyone
Hugo Lefebvre's story
Since 2018, people with reduced mobility have been able to get off the beaten track thanks to Trackz Mobility, maker of wheelchairs designed for outdoor use. These innovative all-terrain wheelchairs have improved quality of life for so many people, and they are the pride and joy of general manager Hugo Lefebvre.
Hugo went into business with three partners: founder and engineer Jocelyn Arcand, company president Christian Giguère, and Jean-François Giguère, who is also an engineer. The four entrepreneurs and their eight employees work together to fill a need in the market that had gone largely ignored before Trackz Mobility arrived on the scene.
OPENING OUR EYES TO WHAT LIFE'S REALLY LIKE FOR PEOPLE WITH REDUCED MOBILITY
"For someone who just wants to spend time outdoors, or to take out their garbage across a gravel driveway, or play with their kids on the lawn… there was just nothing out there. There was a huge empty space between standard indoor wheelchairs and wheelchair models made specifically for sports." This realization hit Hugo after he'd talked with his friend Jocelyn, who uses a wheelchair. Jocelyn had been working on prototypes for an all-terrain wheelchair that would make it possible to roam free outdoors. He got Hugo involved when it came time to commercialize his invention and grow the nascent business.
The timing was right for Hugo, who had just sold a major real estate project. With over 27 years of business experience, he immediately saw the need and the possibilities offered by Jocelyn's proposal of all-terrain wheelchairs for people with reduced mobility. This was a wholly new market.
"Before speaking with Jocelyn, I'd never have imagined how difficult it could be for someone with reduced mobility to simply access the outdoors. I'm an avid outdoor enthusiast, and an athlete, so it only seemed natural to get involved and help out with this important cause."
ALL-TERRAIN WHEELCHAIRS WITH MULTIPLE OPTIONS
Trackz Mobility started operations with a single model of all-terrain wheelchair. Today, the company offers four separate models with a multitude of options. There's a cross-country sit-ski toboggan, or an electric option that allows for long-distance travel with five and a half hours of autonomy, or the equivalent of about 55 kilometres' distance.
"For example, take one of our clients whose husband likes to go cycling. They bought our wheelchair with front-wheel drive, and it's simply changed their lives. Now the two of them can go biking together on any bike path, for hours."
The company also offers an indoor wheelchair with front wheels that can quickly and easily be replaced with an all-terrain single wheel. All Trackz Mobility wheelchairs are adjustable and adapt to clients' changing needs from childhood to adulthood. "You can start with a 12-inch-wide child's chair, and that same chair can evolve with its owner so they can keep and upgrade that same chair."
Originally, the company's target was people with reduced mobility who wanted to maintain an active lifestyle with a great deal of autonomy. Over time, Hugo realized that the need was widespread among a number of clientele markets throughout Quebec. People would drive up to three hours' distance to get to the Trackz Mobility workshop-boutique in Saint-Raymond, near Québec City. Right behind the boutique there are trails so the chairs can be tested in real-time on different terrains. Trackz Mobility stands by its mission and product to the point that it will even reimburse the gas used to get to their premises, to encourage as many people as possible to visit and try out their wheelchairs.
GIVING THE CAUSE A LITTLE PUSH
Reimbursing your gas is just one small gesture among many that shows Trackz Mobility's goodwill and dedication. Hugo is particularly proud of the "A Little Push" program and its success.
When it comes to wheelchair access, not all things are equal. The RAMQ, the SAAQ, and the CNESST generally reimburse costs for indoor wheelchairs only. Sports wheelchairs are non-refundable. And Trackz Mobility's all-terrain wheelchairs are right between those two categories, Hugo explains, so whether they are funded is not always clear. All-terrain wheelchairs are reimbursed far more frequently today, but Trackz Mobility's worked with the Portneuf Health Foundation to develop a program called "A Little Push," which helps create crowdfunding campaigns to raise the funds necessary to purchase an all-terrain wheelchair. In the space of a year, this initiative has raised more than $150,000 and helped more than a dozen people.
Trackz Mobility has also undertaken major media tours in recent years, in the aim of making trails in Quebec parks more accessible to people with reduced mobility. Thanks to new government subsidies, several parks (including Vallée Bras-du-Nord in Saint-Raymond) have purchased all-terrain wheelchairs so that they can be rented by outdoor enthusiasts. "Our cause is to make Québec's beautiful landscapes accessible to everyone." At the beginning of 2023, this cause could well extend to landscapes in France: the company is preparing to open a second workshop-boutique in Brittany, and inaugurating the brand new Trackz Europe.
THE COMPANY IN NUMBERS
12: the number of employees
800%: the increase in sales in the past year
300: the number of all-terrain wheelchairs distributed since the company was founded
15: the number of people with reduced mobility who have been helped by the "A Little Push" program
ENVIE D'EN SAVOIR PLUS
Visit the Trackz Mobility website to find out more about their different wheelchairs and multiple options.