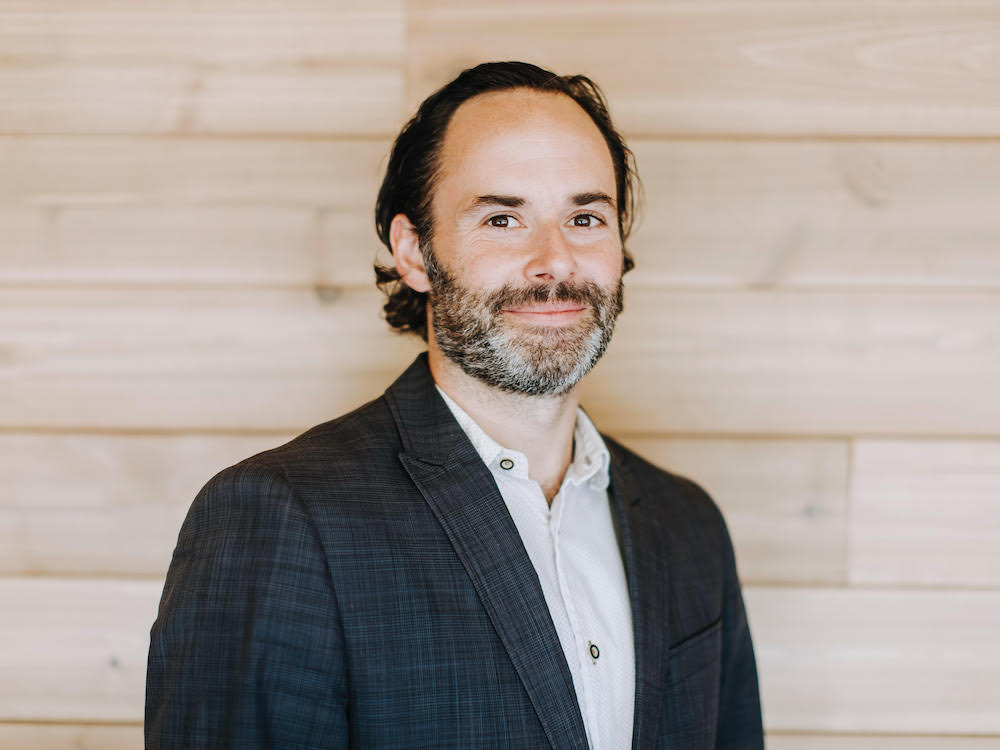 Strøm Nordic Spa: Promoting Individual and Collective Well-Being
Guillaume Lemoine's story
Wednesday, August 3, 2022
Since 2009, Strøm spa nordique offers Quebecers an urban oasis to recharge their batteries. President and founder Guillaume Lemoine is part of an entrepreneurial movement looking for economic growth that generates a positive impact on society and the environment.
Patagonia's founder, Yvon Chouinard, has been one of Guillaume's inspirations since he started his business. "I adhere to his management philosophy. A company must help society, not the other way around."
FROM FINANCES TO NORDIC SPAS
Strøm's story began over 25 years ago, when Guillaume visited a Nordic spa for the first time. "I loved the experience and the benefits it had for my body and mind. I fell head over heels for the product!"
Back home, the HEC Montreal finance, management and business strategy graduate opened an Excel spreadsheet and concluded that the business model made sense. "The industry sparked my curiosity and it was in line with my values of nature and well-being."
He started looking for a piece of land to build his first spa and found a rare gem on Nuns' Island in 2009. It was so successful that he expanded the following year. Strøm's growth continued throughout 2014 with the opening of a second Nordic spa in Mont-Saint-Hilaire, then in Sherbrooke in 2016 and in Quebec City in 2018.
The latter was named the most beautiful spa in the world by three international competition committees. The company also owns six restaurants, a line of organic skincare, a line of Quebec-made swimwear and a foundation for caregivers. Not to mention the launch of a Nordic cookbook, a magazine and a series of podcasts: a variety of projects that allow Strøm to share its vision and make it a true lifestyle.
INNOVATION IN THE WELLNESS INDUSTRY
The spa and wellness industry is not necessarily what comes to mind when we think of innovative companies. However, Strøm has been at the forefront ever since its debut.
First, Guillaume had the idea of transposing the Nordic spa experience to an urban setting. Today, spas in the city are more common, but there was a time when they were a travel destination. You had to drive a long way to relax!
Then, Strøm became the first spa to offer an on-site dining experience and to install a corporate structure that would allow it to expand. "We were the first in the industry to implement large-scale marketing strategies in Quebec." Prior to Strøm, spas had never been on highway billboards.
Today, the company uses a highly advanced vertical geothermal system in three of its four Nordic spas. This new technology allows them to direct excess heat into the ground in the summer and reuse that energy to heat their pools and their buildings in the winter.
"The new technology we've introduced in our spas reduces the energy needed to heat our baths by nearly 50%. These geothermal systems have won us many awards."
A CORPORATE VISION FOR A BETTER WORLD
Since its inception, Strøm's vision has never been to 'make it' as a Nordic spa, period. Guillaume and his team get up every day with the conviction that people who visit their facilities come out of the experience changed. "When you get home, you are in a better state of mind."
As a business owner, it's easy to lose sight of what you set out to do. For Guillaume, it's important to remember that customer experience is one of Strøm's key differentiators.
For the businessman, companies should be aware of the impact they have on society. He invites young businesses to question the reasons behind their growth, and consumers to encourage brands taking concrete action for the environment and society.
"I wish with all my heart that entrepreneurs will move in this direction: it's a team effort."
Strøm foresees strong growth in the coming years, which will allow the Quebec-based company to have an even greater positive impact. "Many projects are on the horizon. I can't reveal much, but Strøm will expand internationally in the next two to three years."
A FEW FIGURES
800 team members, including 500 employees and 300 massage therapists
400,000 clients annually
4 spas in Quebec and Ontario
900,000 litres of water managed every minute by a state-of-the-art geothermal system
LEARN MORE
Browse Strøm Nordic spa's website to learn more about their thermal bath experience.