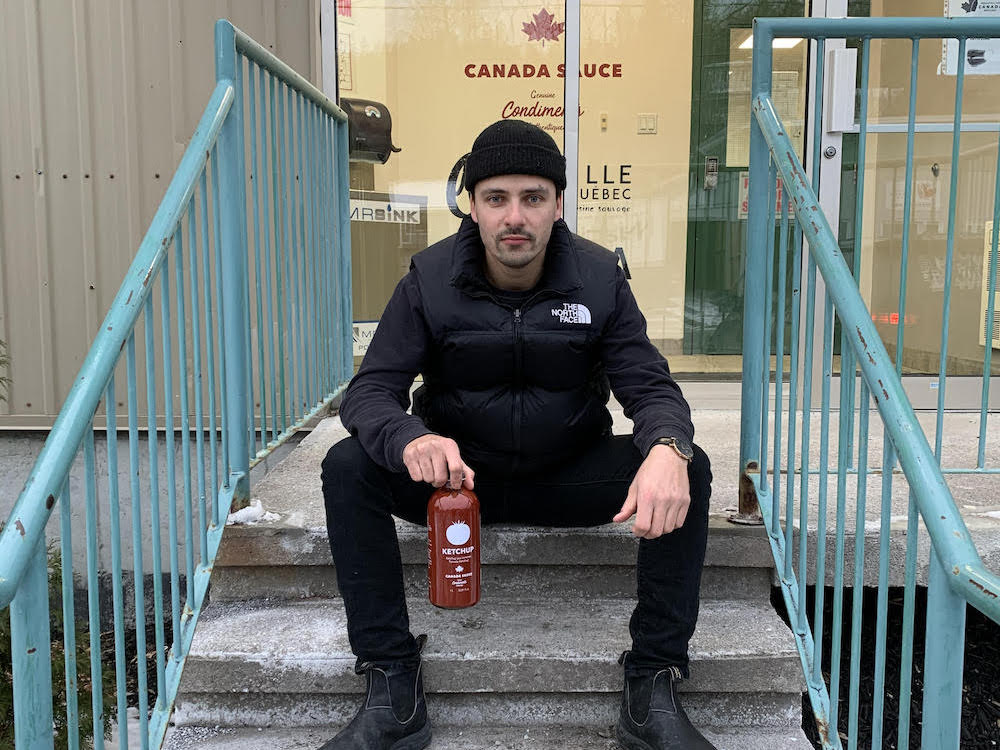 Canada Sauce: The Company's Secret Sauce for Success
Simon-Pierre Murdock's Story
Since 2018, Canada Sauce condiments have secured an enviable position on the shelves of major grocery stores in Quebec and Ontario. Under the leadership of Simon-Pierre Murdock, the Chicoutimi-Nord SME recently conquered the hearts—and taste buds—of industry giant Costco … and still has a few more tricks up its sleeve!
Ketchup, relish, mustard: an unbeatable trio for which the Saguenay-based company is now famous. While Canada Sauce has to compete with big brands like Heinz and French's, entrepreneur Simon-Pierre is not easily intimidated.
THE APPLE DOESN'T FALL FAR FROM THE TREE
Simon-Pierre's childhood was lulled by the entrepreneurial stories of the Murdock family, tales that go back to the time of his great-grandfather. Originally from Scotland, he was the founder of Murdock Lumber in Saguenay, one of the first forestry companies in the province.
Nature being a part of his heritage, Simon-Pierre naturally thought up his first business initiative while strolling through a forest. In 2008, he stumbled upon a morel mushroom patch. He saw an opportunity to market these mushrooms and founded Morilles Québec, which has now been up and running for 14 years.
"This project allowed me to make mistakes that I will not repeat with Canada Sauce. It also allowed me to have financial credibility and to learn to be a better manager."
A HUNGER FOR GROWTH
Simon-Pierre was having great success with Morilles Québec, but his business volume was beginning to plateau. And if there's one thing the entrepreneur doesn't like, it's to idle away. "I'm not here on Earth to waste my time, I'm here to develop projects. I like to get things done."
In 2015, Simon-Pierre saw an opportunity to reinvest profits in a new business venture: a hot sauce company was for sale. With his new partner, they started producing and bottling hot sauces and barbecue sauces for private brands.
The businessman was already considering producing ketchup with the equipment at his disposal back then, but feared that he would not be able to compete with big American companies. Then, Heinz publicly announced the closing of a factory in Ontario.
MAKING A SPLASH WITH NEW CONDIMENTS
A major company shutting down its factory gave him the courage to begin developing his ketchup, then relish and mustard. He worked on this secret project for over a year, up until its launch in 2018: Canada Sauce was finally born!
It was a warm and sunny Thursday—the perfect day to reveal hot dog and burger condiments. "I had three full pallets, a press release and a picture of a bottle of ketchup next to a lakeside barbecue."
Since that summer day, Canada Sauce has not let up. "I still have 200 pallets to produce for the next few months, which is the equivalent of a dozen trucks full. Even though we have invested more than $4 million in our factory over the past three years, we still can't keep up with demand."
MAKING THEIR MARK ON COSTCO'S SHELVES
Telling of the Saguenay company's growing popularity, American giant Costco, known for its very strict criteria when it comes to choosing suppliers, contacted Canada Sauce in February 2022. The retailer had been facing a shortage of mustard from its usual American suppliers.
The Chicoutimi-Nord factory had three weeks to prepare itself for the Costco audit, a process that can take several months. Fortunately, the company scored 96% and Canada Sauce's in-store sales far exceeded Costco's expectations by nearly 20%. Today, the small business supplies Costco not only with mustard, but also with ketchup and relish.
DREAMING BIG
One thing is certain, this is just the beginning for Canada Sauce. Simon-Pierre already plans on purchasing companies similar to his in the rest of Canada to supply the demand outside Quebec.
The businessman also has American ambitions, especially for the East Coast. America Sauce, a new brand for which the production will remain in Canada, is ready to be launched in key states. Despite these expansion plans, Simon-Pierre wants to keep his head office in Saguenay.
In its three-year strategic plan, the company also aims to secure its supply. This objective includes the construction of a tomato paste plant, a strengthened partnership with Toundra greenhouses for the processing of cucumbers and investment projects in Quebec's mustard seed and flour industry.
A FEW FIGURES
40 employees at Canada Sauce
25 to 30% increase in sales per year since 2016
1,065,000 liters of condiments produced in 2021
3 to 5 million bottles sold in 2021
2,100 points of sale in Quebec and Ontario in four years of business
10% of market share in Quebec in the ketchup sector in 2021. The company is targeting 15% by 2023.
LEARN MORE
Browse Canada Sauce's website to learn more about their Saguenay condiments. Listen to our interview with Simon-Pierre Murdock from 2019 in this podcast.