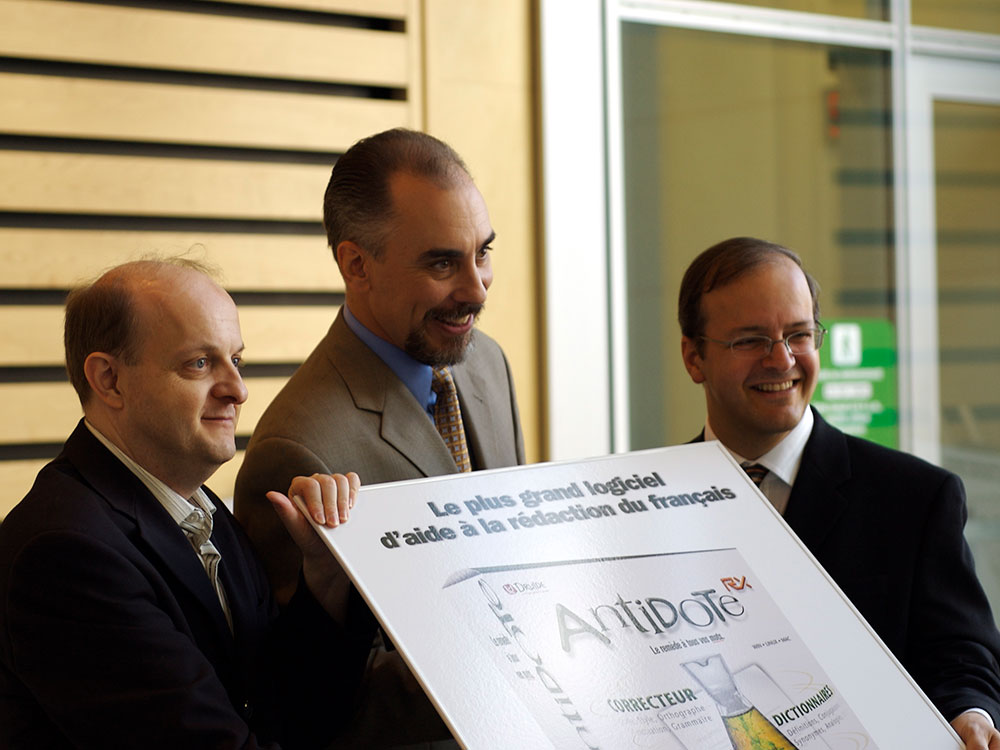 Druide Informatique: Excellence or Nothing
André d'Orsonnens' Story
Monday, February 27, 2017
Developing an antidote takes time, finesse, and precision. One only has to talk to the Druide informatique team who, for 23 years, have been developing and refining an extremely powerful remedy to treat ... writing in French!
Antidote, the company's flagship product, is a writing assistance software whose multiple dictionaries and references serve everyone, from those who are less proficient to those who have mastered the language of Molière. It has over one million registered users worldwide, a figure that continues to grow year after year.
According to André d'Orsonnens, the thing that converts their customers is the very thing that allows Druide informatique to hold the competition at bay: excellence. "What we do is so complex and detail oriented that the barrier to entry into the marketplace is enormous. Some would say that we are nit-picky; I say that we are meticulous. "

The quest for perfection is embedded in the company's history. In 1993, computer scientist Éric Brunnelle convinced his friends, mathematician Bertrand Pelletier and lawyer André d'Orsonnens, to help create the best writing assistance software. "My role was to harness their brainpower," d'Orsonnens explains. They tackled the technical challenges and I was in charge of finance, marketing and everything else. "

In total, the trio spent three years and ten months on research and development before launching the first version of Antidote in 1996. Though their product already surpassed the competition, it was not enough for the founders.  Their goal was to integrate all writing references and guides into one software program. "We were told that having a historical dictionary of the French language was not important," remembers Andre d'Orsonnens. But for us, it was."

With over 20 dictionaries and references, Antidote 9 boasts some serious correction capabilities. Mission accomplished? Not exactly. The three founders still want to integrate new tools.  The company is heavily invested in research and development, spending over a third of its annual revenue, which was 17 million in 2016. 

Antidote's revenue has been ever increasing -except in 1999 when the threat of the year 2000 bug slowed the company's growth. It is Druide informatique's most profitable product, which also owns Typing Pal and a publishing house.

The integration of English into Antidote in 2015 has brought the company to new heights. The new corrector was specifically designed to address the errors made by Francophone when writing in English. According to the entrepreneur, this approach not only distinguishes itself from Anglophone competition, but also is also much less risky than tackling a new market. After all, a large accounting firm whose Montreal offices already use the French version is easier to convince than an American company that has never heard of it.

"The conversion rate is excellent, which creates a lot of cash in a short period time," says Andre d'Orsonnens.  We re-invest that money into a marketing campaign to help break into the Anglophone market.
Share your mistakes
André d'Orsonnens is very involved in Quebec's entrepreneurial community and regularly meets with young people.

If he devotes so much time to this cause, it is because he himself has benefited from a wealth of advice in his early days, over 20 years ago. "There were many people who took the time to have lunch with us and helped us avoid making serious mistakes  ... Intelligence is the ability to learn from your mistakes. Wisdom is the ability to learn from the mistakes of others. "
Druid in figures
65: number of druids (employees' nickname) 
127 000: number of words defined in Antidote's dictionary
30: the number of software programs Antidote can integrate 
4,5: the sum, in millions of Canadian dollars, invested in the development of the English version
Want to know more?
Visit Druide informatique's website