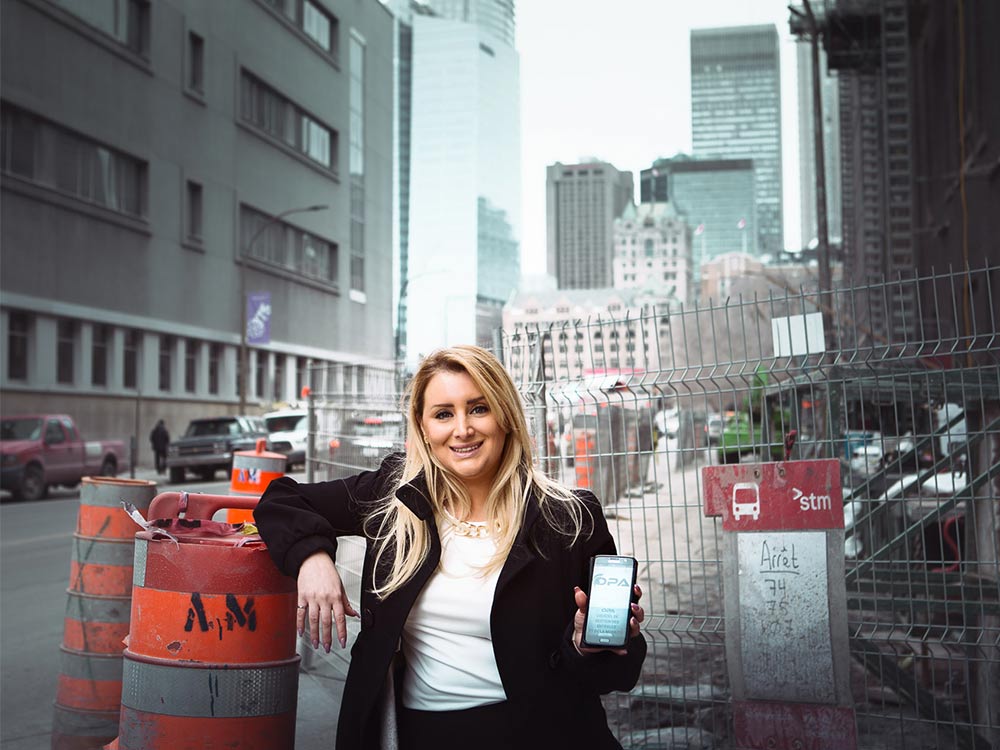 Rethinking traffic cones
Caroline Arnouk's Story
Quebec will be filled with orange cones this summer and will definitely affect traffic. Fortunately these obstacles to traffic circulation can be reduced thanks to unique software developed by Technologies OPA. This start-up, which first launched in the provincial capital, now has a presence in Montreal and Laval.
Coordinating construction work in a big city is a huge task, and communication problems are common. "Sometimes it happens that a detour created to avoid construction leads into another construction site, or even that contractors begin projects at the same time in the same area without communicating with each other," states the 30-year-old founder of Technologies OPA, Carline Arnouk.
To avoid such situations, her company has developed a digital platform that allows a view of all road work undertaken in a given area. By knowing which roads are blocked, planners can take steps to mitigate problems, such as by requesting police presence to direct traffic at busy intersections. While this may not get rid of traffic congestion entirely, it will certainly ease the situation.
Caroline thought of the idea behind Technologies OPA while working as a civil engineer for Quebec City's water department. "People don't realize how much is hidden underneath the roadways." Pipes for potable water and gas, sewers, electric and fibre optic cables... Every time work on aqueducts was planned by the City, Caroline would contact the other services affected to find out whether they wanted to take the opportunity to undertake their repairs at the same time. After all, if you have to dig up a road, better do it just once!
"We would meet several times to compare maps and Excel docs," recalls the engineer. "It took a lot of time because we didn't have an effective tool for sharing information."
With her engineer's mind, this looked like a problem to be solved, as well as a great opportunity.
"I saw the digital revolution happening in city administration, I saw the massive investments in infrastructure, and I said to myself that something could be done to help public and private organizations manage their construction projects better."
Caroline Arnouk
So in 2015 the entrepreneur began by self-financing her idea. "That proves to people that you believe in your business," she states. Fortunately Caroline was also able to benefit from support from the Foundation Montréal Inc. and PME MTL.
Talking about your ideas
The first thing Caroline did was to talk to people about her project. "When you have an idea, it's very important to ensure there is actually a market for it." By listening to advice from people in that field, the entrepreneur realized that the potential was not in managing construction, the sector she was originally aiming for, but in the world of transportation.
Discover also : Should you share your business idea?
She then created a demo and met with potential clients. "I attended a lot of conventions, did technical presentations and contacted different industry associations." The time spent was productive: In less than two years, she landed contracts with Infrastructure Canada and Quebec's Ministry of Transportation—a real achievement, considering how difficult it is at times to convince those working in the public sector to adopt innovative tools.
Despite her success, Caroline is still attentive to what's going on in the market and is always on the lookout for business opportunities. "We realized that the police service was interested in using our software, since if there is a demonstration or big public event, they need to know which roads are available." Technologies OPA will soon be adding a module for public transportation in order to help various transportation agencies better plan alternative routes for buses.
An unexpected client has also approached her company: the Australian government. Technologies OPA is currently working with them on a project that is advancing "very quickly." "The people from Australia saw me at a conference, and since they are investing heavily in infrastructure, they were very interested. I never thought I would get a call from Australia, but it happened! That proves anything is possible."
The company in numbers
7: Number of employees
20: Organizations using Technologies OPA software
1,000: Construction sites indexed by the software
 
Want to learn more? 
Visit the Technologies OPA website