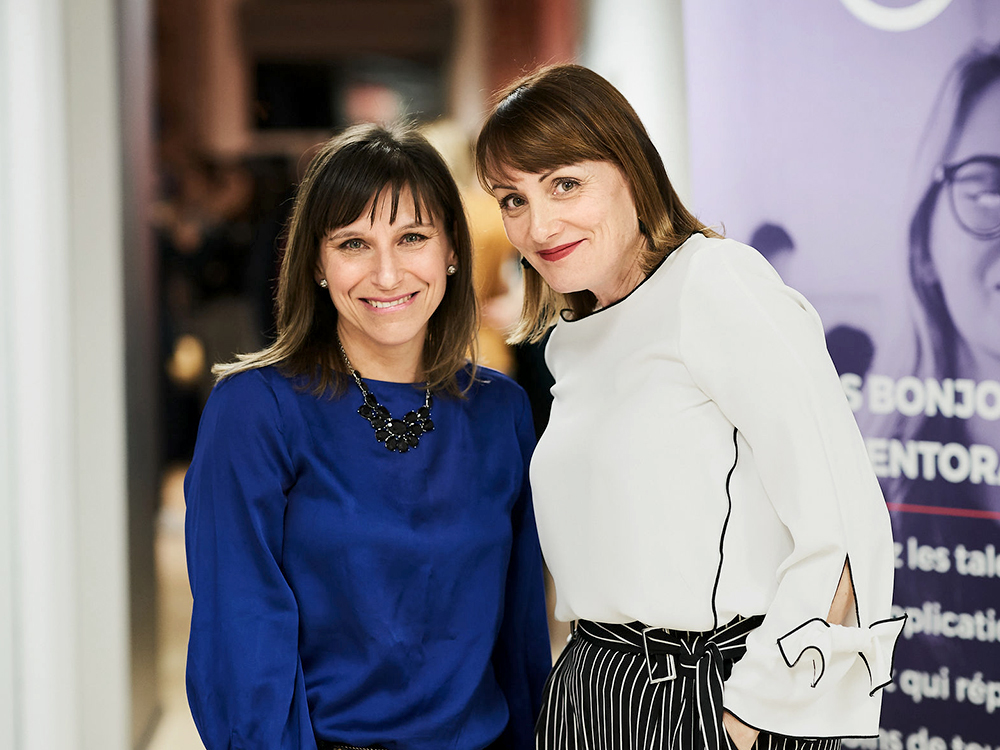 Élo: One mission, two companies
Catherine Légaré's and Lyne Maurier's Stories
Lyne Maurier had been immersed in entrepreneurship since childhood, while Catherine Légaré took the long way to get there, specifically as a result of pursuing doctoral studies. Together, the two co-founders of Élo have turned mentorship into a business venture not just once, but twice.
Lyne Maurier's parents were real entrepreneurs. They founded two companies in which Lyne worked during her youth. When she turned 23, she decided to become more independent and launched her own home care service for the elderly along with a friend. While it was an enriching experience, the venture didn't last. After a period spent in Mont-Tremblant working in the events industry, she returned to Montreal, where she opened a restaurant called La Cuisine de Lili Margot.
"In both entrepreneurial experiences, I didn't know a lot about the sector," explains Maurier, who holds an MBA from HEC. "But I think that if you have a good idea, you can become an entrepreneur if you surround yourself with the right people."
After five years spent working evenings and weekends, and after the arrival of her twin girls, Maurier decided to leave the restaurant business, which didn't really suit her situation. "I also wanted to make an impact on society, to get further away from chasing profits which is inherent to private business," she adds.
For Catherine Légaré's part, she became interested in research after completing studies in psychology. As part of pursuing her doctorate she launched the mentorship project Academos in 1999, an organization to help young people find a professional calling, in partnership with Collège de Bois-de-Boulogne. "At first, I didn't intend for it to be a long-term project or to turn it into an organization, but it was so successful that I just decided to run with it," explains Légaré. "I wanted to keep the project going and offer more services, which involved larger budgets."
It took Légaré a certain amount of time before she started thinking of herself as an entrepreneur. "The revelation hit me when I was named Jeune leader du Québec in social responsibility in 2009 at the provincial Arista contest held by the Jeune Chambre de commerce de Montréal," she adds. "That led me to rub shoulders with other entrepreneurs of my generation and gain a foothold in developing within social entrepreneurship, a term that had only just started being used."
From non-profit to private business
Maurier's and Légaré's paths would finally cross in 2008, when the former was named managing director of Academos. In that capacity she would be responsible for heading operations, finances, human resources and business development. Three years later, she and Légaré, the mentorship expert, restructured the project into a non-profit.
Supporting by financing from the Secrétariat à la jeunesse du Québec, Academos particularly aims to encourage young people to stay in school. Today the Academos mobile app connects 14- to 30-year-olds with thousands of professionals and enables them to chat for free. Furthermore, around 500 schools have integrated Academos into their educational program.
Over time, the co-founder recognized a need to extend the mentorship they offered to companies and their employees, particularly to their major partners such as Ubisoft, Desjardins and Intact Assurance, all of which contributed financially to Academos and to the recruitment of mentors. "People expressed this need to us several times," confirms Légaré. "So we started to think about it more seriously to see if there was a real market for it, if there were existing products and how we could deploy such a service."
The two co-founders, who were also looking for a new challenge, officially founded the private company Élo in November of 2018. Before it even started offering its product, the pair were able to count on two partners who accepted to support the project financially: Université du Québec à Montréal and Ordre des conseillers en ressources humaines agréés.
"We were also lucky to get financing from the Business Development Bank of Canada and PME Montréal, through which we were able to define and offer a high-quality product in both official languages," explains Maurier.
Mutual growth
Élo has only existed for two years, but 26 organizations already use its platform for their members, employees or students. Amongst the company's clients are three universities, the federal government, the City of Montreal, the Bar of Montreal and the Bar of Laval.
Élo's rapid success is explained in part by all the experience developed by its two complementary co-founders which facilitated its launch and forms the foundation of the company's credibility. For example, its business plan included a large quantity of solid data on the mentorship market gained over Academos' 20 years of existence. Élo even invests in that organization's social entrepreneurship by donating 7 percent of its gross revenue to Academos. 
"Launching a company that was a derivative of Academos also had another advantage, in that it enabled us to remain at the head of the organization, which was very important to members of its board. This would enable the organization to calmly plan for our eventual departure, if we do ever leave one day," emphasizes Maurier.
Légaré works four days a week at Élo to oversee the growth of the new company, keeping the fifth day for working at Academos—for which she is the spokesperson—to train its management and supervise its largest partnerships. As for Maurier, she continues to lead Academos and ensure that both organizations find their particular niche through their association.
Élo and Academos notably share office space and certain resources, such as accounting and communications. "This obviously costs Élo and Academos less and opens the door to professional development opportunities for staff too," emphasizes Maurier. Two employees are devoted completely to Élo, in addition to two full-time interns. Élo's sales have doubled every year since it was founded and the company was preparing to enter a growth phase when the pandemic hit.
"Our team has remained on the forefront and we were able to find the right messages and the right value proposition to promote our services differently," affirms Légaré. "The results of this positioning are being felt now." In fact, two mentorship projects resulted from the Covid-19 pandemic, launched in partnership with the Collège québécois des médecins de famille and Quartier Artisan, aimed at helping certain organizations bounce back after the pandemic.
Borderless mentorship
In part thanks to its bilingual platform, Élo has recently landed its first foreign client in the form of multinational Medtronic, which specializes in medical technology. "A huge amount of work has been required in recent months to improve all aspects related to data security and technological security," explains Maurier. "These efforts have also allowed us to add the Government of Canada to our client list, whose requirements in terms of security are higher." Maurier's ultimate dream as an entrepreneur would be to have her platform translated into several languages to break into the international market.
Élo will also next be turning to venture capital. "We recognize how attractive Élo is, especially because of its good sales processes, but to increase its visibility and volume of activity, we need financing," states Légaré. She hopes that the Élo mentorship application becomes the most used app in companies, at least in North America.
Élo in Numbers
3,600: Current number of users of the Élo platform
26: Number of organizations that use Élo for its members, employees or students
200%: Annual increase in Élo's revenue since its launch in 2018
WANT TO LEARN MORE?
Visit Élo's website
In photo (from left to right): Catherine Légaré and Lyne Maurier
Photo credit: Benoit Rousseau