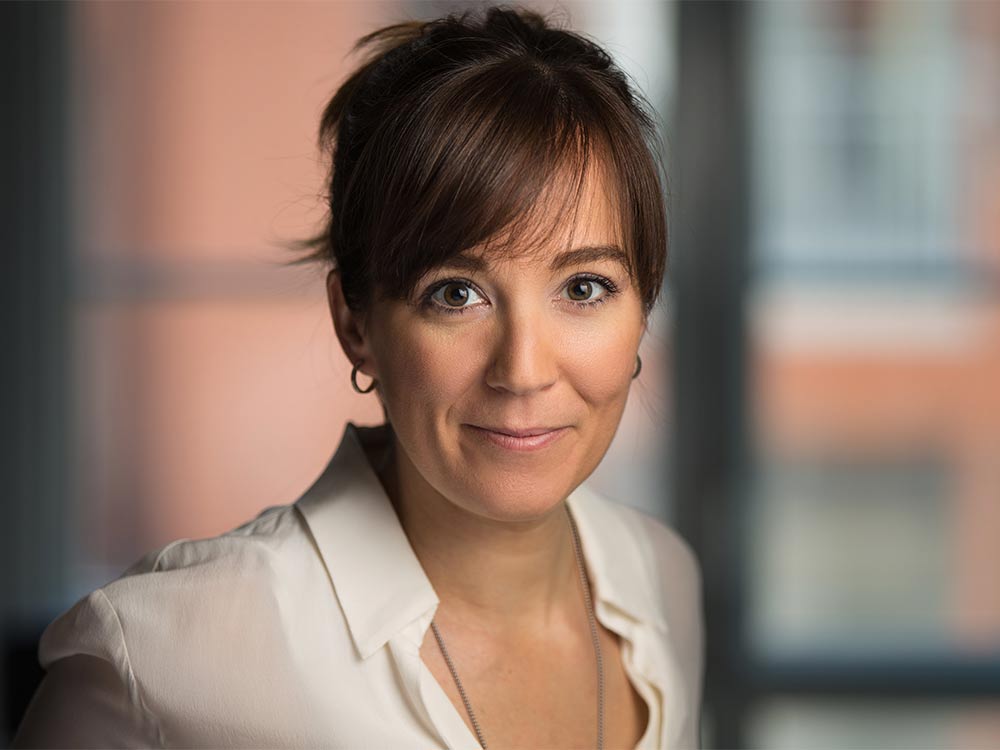 KROME: Building energy efficiency in Quebec
Sandrine Tremblay's Story
Friday, December 22, 2017
Sandrine Tremblay co-founded KROME in 2016 along with associate Myrielle Robitaille. Their fast-growing business specializes in energy efficiency in buildings. Meet an entrepreneur who would love to see Quebec become a leader in the field.
With a father who was a mechanical engineer working in construction, Sandrine Tremblay developed an early appreciation for the field, completing her own degree in mechanical engineering at Université de Laval. After her first job working in energy efficiency in Ontario, where she perfected her English, she returned to Quebec to work as a project director for an engineering consulting firm.
She climbed the ladder at the company without losing focus on her goal of starting her own business in the future, which she accomplished in January of 2016. The uniqueness of Tremblay's career path is due to the quasi-scientific method she used before jumping into entrepreneurship.
Tremblay submitted herself to a battery of psychological tests and consulted with an organizational psychology professional and life coach. "I wanted to be sure that I would be happy as an entrepreneur," she explains. The psychometric test results were unanimous: She needed to be in business for herself to be happy. "I love being surrounded by professionals," she admits.
Discover also : How Ubios is making residential buildings intelligent 
Tremblay devoted a full two weeks to the testing, which concluded she was made to be an entrepreneur. KROME's articles of incorporation were submitted in January 2016, its first client was signed in February of the same year and in June 2016 the company started working on the Plaza Côte-des-Neiges project. Having landed their first major contract after only five months of existence, obviously the team at KROME didn't waste any time.
"Entrepreneurial success doesn't prove a person has skills or talent. Success in business is about perseverance and luck. You need to make choices for the sake of your own happiness, not just to make money."
Sandrine Tremblay
 
Quebec: A pioneer in energy efficiency
In Quebec, the energy efficiency market is very dynamic and considerably ahead of the rest of Canada as well as the United States, with approximately $100 million in public contracts awarded each year.
After completing work for school commissions and hospitals, KROME turned its focus on small and medium-sized owners of commercial and multi-family residential buildings.
In building construction and mechanics, the traditional model is as follows: a client hires an engineer to perform a diagnostic, create a concept and plans and provide a quote. With this information, the client creates a call for bids and chooses a bidding firm without really being informed about budget overages and related problems. The client is the one who assumes all the risk.
KROME works differently. From the first contact with the client, the company offers an evaluation of the construction costs, estimated energy savings and subsidy possibilities. The Montreal firm guarantees the financial plan line by line. If certain subsidies are not obtained, KROME accepts financial responsibility. The company has a firm promise: No extras once the client is taken on. "It's the same principle used to construct the Turcot Interchange—costs and timelines are guaranteed for 20 years. We use the same model with our clients and operate in complete transparency," explains Tremblay. 
It's a model with proven success: Since its creation, greenhouse gas emissions savings by KROME's clients are equivalent to 400 cars being taken off the road. In close to two years, that's almost one car every two days.
Getting close to clients
Normally, potential KROME clients receive an energy report for their building, followed by an analysis of its energy requirements. This sales approach is performed free of charge, with clients often subsequently offering a project to the company. 
All that remains at that point is to target the client's specific needs, both in financial and technical terms: Do they want to eliminate an odour on the ground floor, increase ventilation in the winter or improve air quality?
In the near future, KROME will have around 15 employees and its founder plans on tackling markets in Ontario and the United States. But the company's mission will remain the same: Save the planet by maximizing energy efficiency one building at a time. 
KROME in Numbers
40: Number of clients
$2.2 million: KROME's revenue
400: Reduction in greenhouse gas savings by KROME clients expressed as the number of cars taken off the road
 
Want to learn more?
Visit the KROME website