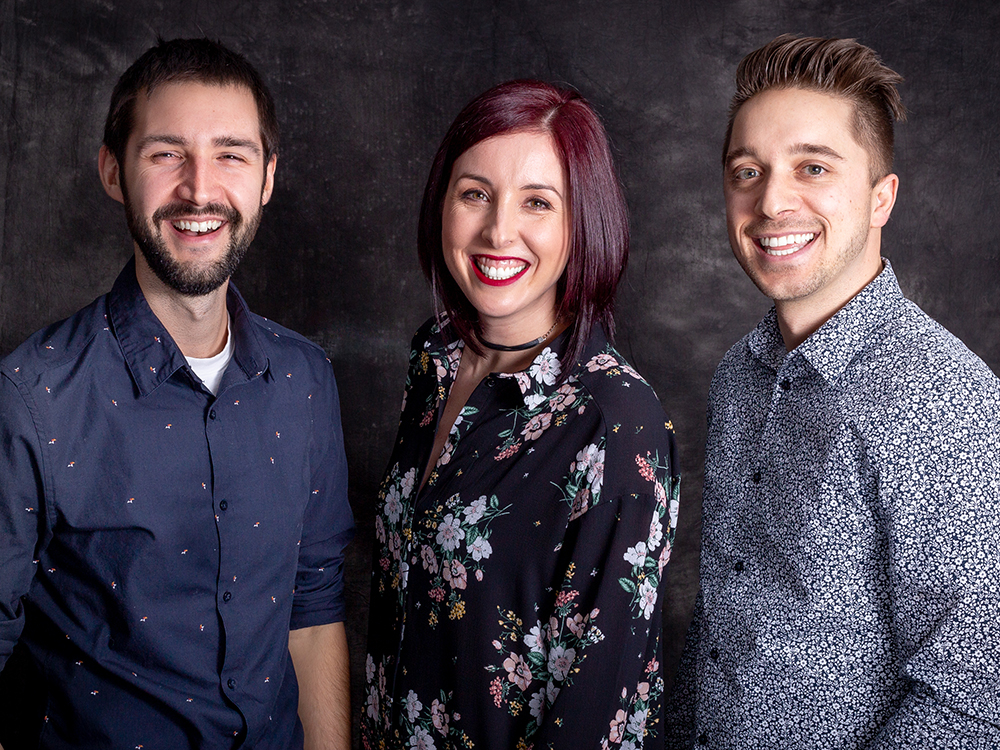 OLA Bamboo: Democratizing environmentalism
Jean-Philippe Bergeron, Vicky Jodry and Simon-Pier Ouellet's Story
For the three entrepreneurs behind OLA Bamboo, creating a biodegradable toothbrush was just the start of a journey toward finding sustainable alternatives for everyday disposable objects.
Vicky Jodry, Jean-Philippe Bergeron and Simon-Pier Ouellet realized it was time to switch to a zero-waste lifestyle after one of their friends made the jump, but they never considered that the move would spark a business venture. "We ordered a bamboo toothbrush on the web, but we weren't happy with what we received," explains Jodry. "Including the shipping charges, a simple toothbrush cost over $30, besides the fact that the brushing experience didn't meet expectations. At that point we asked ourselves, Why not create our own?" At that time, Jodry was a radio host at Rouge FM, while Bergeron had left for Ontario to teach at French schools and Ouellet was a journalist at TVA.  They needed less than three years to dive into entrepreneurship full-time with their company OLA Bamboo, which they established in 2016 to offer a wide variety of biodegradable products, from bamboo toothbrushes to ecologically friendly dental floss, straws, utensils and even reusable makeup remover pads.
Betting on green: A winning strategy and unexpected success
They did their own research to come up with their first toothbrush prototype in bamboo and received support from the Centre local de développement (CLD) in Gatineau. Since toothbrushes are medical instruments regulated by Health Canada, the team worked closely with dentists and experts in the health field to improve their prototype. "All our products were created out of the same method: initial research, an initial prototype, then a series of modifications based on comments from professionals until we reach our final product. Our approach isn't set in stone, and since technology changes rapidly, we want to ensure we're always on the cutting edge of new developments," explains Bergeron.
They made a few enquiries from potential suppliers. Since the material they were interested in came from China, Bergeron and Ouellet immediately made the trip to get further information. "Even without any experience in the field, we found a provider that agreed to produce our design. For us, it was essential to ensure that the people we were doing business with provided an ethical, environmentally responsible work environment," says Bergeron. They decided to use moso bamboo, a plant that grows very quickly (taking just eight or nine weeks) and without chemical additives, and which is also not consumed by pandas. An initial order was placed to test the market in September of 2016: Over 2,000 toothbrushes were produced, which the three entrepreneurs expected to sell by Christmas. In fact, stock ran out in one week, solely as a result of online purchases. Obviously the green movement was taking off with consumers.
Growth solutions for fulfilling demand
The trio were approached by the team at Dans l'œil du dragon at the start of 2017. Right after their appearance on the show in May, they sold 4,000 toothbrushes in three hours. "Before, we would get together in the evenings to handle orders over a beer. But from that point on, we realized we had to think about the business differently," states Ouellet. For OLA Bamboo, the main challenge related to explosive growth was managing inventory: They needed to know how to deal with the rapid increase in demand, since the company's revenue practically quadrupled that year. In 2018 they were able to find a bit of stability, particularly thanks to mentoring sessions with an accounting expert they met through a BDC.
Thanks to structural changes, the three entrepreneurs were able to extend their range of biodegradable products. In addition to toothbrushes they added utensils, then straws, as well as makeup removal pads. From dental hygiene to personal hygiene and kitchen items, OLA Bamboo does it all. "We're always asking ourselves how to improve some particular everyday object, how to offer people simple, economical ways to have a positive impact on the environment," explains Jodry. "Our goal is for people to immediately think of us when they want to find an ecologically friendly alternative to plastic products."
Entrepreneurs who stick to their values
OLA Bamboo doesn't just stand out for the fact that all its products were created from sustainable materials, without using any plastic packaging for distribution. The company is also active in the community: For every toothbrush purchased, a portion of the sale is donated to Compensation CO2, which has enabled over 1,000 trees to be planted in Notre-Dame-des-Bois in just a few months. OLA Bamboo also supports the social and vocational reintegration of people with minor disabilities. "This is a way for us to contribute more to our economy by offering opportunities to those who need them," says Bergeron. They apply the same values to their suppliers: While bamboo may not grow in Canada, other materials required to create their products are sourced from Quebec and Ontario as much as possible.
Now that the company is well established in Quebec, both online as well as at retailers such as Brunet, Jean Coutu, Metro and Uniprix, OLA Bamboo intends to develop its Canadian market further while continuing to establish partnerships with the key players that contributed to the creation of their own products, such as dental clinics. "It's a great way of reaching as many people as possible," adds Jodry. "People are increasingly conscious of environmental issues, and we really want to give them an opportunity to participate in making all our lives greener and more sustainable, no matter what their age or social sphere. We can all do our part to change things."
OLA Bamboo in Numbers
1,000: Number of white spruce planted in Lot 4767073, Third Line, in Chesham county
500: Number of years plastic pollutes the environment after it has been thrown away
17,000: Number of toothbrushes sold in four days after the company's appearance on Dans l'œil du dragon 
 
Want to learn more?
Visit OLA Bamboo's website