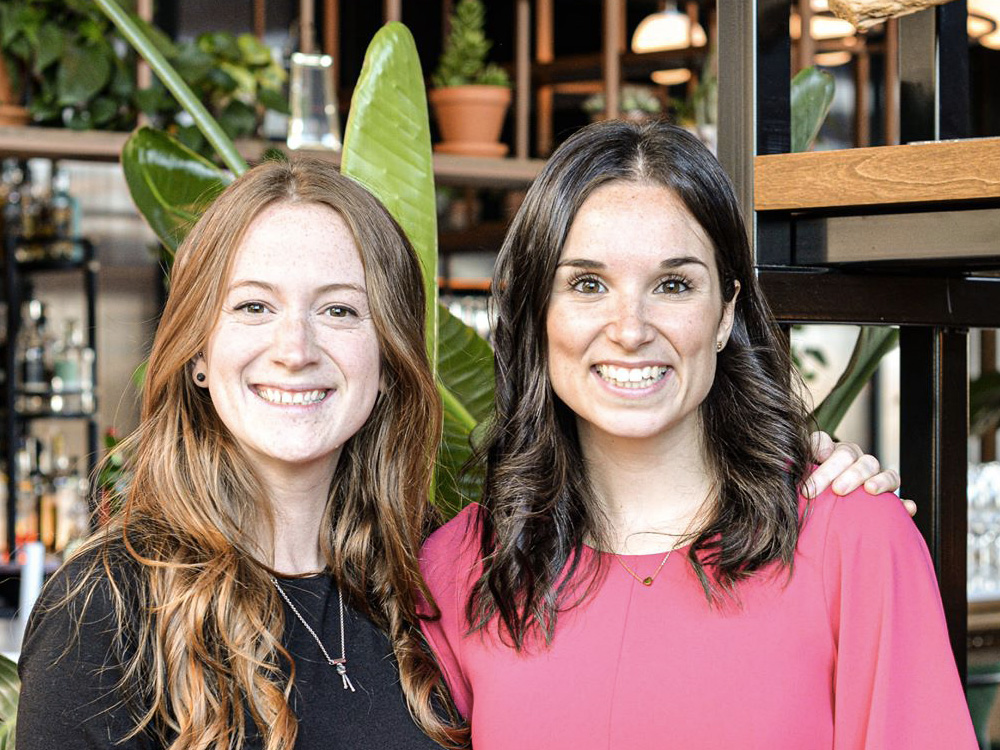 Tero: Revolutionizing the compost bin
Elizabeth Coulombe and Valérie Laliberté's Story
Business ideas can come from anywhere—even school. Elizabeth Coulombe and Valérie Laliberté are living proof, since they transformed their end-of-university project into a marketable product for managing household waste that has been able to attract quite a following.
The two students met while working on their bachelor's degrees in product design at Université Laval as part of the program's first batch of students.
While the two colleagues hadn't strictly considered starting a business while still in school, Elizabeth Coulombe had already shown an interest in entrepreneurship, having chosen to enroll in complementary courses in marketing and business management in addition to her degree.
A promising final project
The two young women presented their project, Tero, as part of their university program. It aimed to solve a very topical issue: Quebec intends to completely ban organic material from its landfills by 2020. 
Inspired by this mission, they got the idea to create a device that would dehydrate and crush food waste in fewer than three hours to produce a fertilizer for indoor or outdoor plants.
"We took the development very seriously by creating a real business plan that would be achievable in case the venture went beyond its status as a final-year project." 
Elizabeth Coulombe, co-founder and president of Tero
 
Their discipline was worth it. During the show that presented graduating students' final projects, visitors were already asking where they could buy one. "We told them that it didn't exist yet," she says. "But we started looking into the steps to entrepreneurship at Entrepreneuriat Laval, who guided us in creating a business and encouraged us to participate in a few contests." 
Reputation facilitates financing
In parallel to the founding of Tero, Coulombe pursued a master's in business administration, entrepreneurship and SME management, which enabled the company to participate in, and win, several student contests. 
While their project's notoriety was built gradually, there were two events that contributed to driving their product into the media limelight. "We had participated in an initial contest that required us to create a Facebook page to promote ourselves, since the winning project would need to accumulate the most votes," explains Coulombe. "We weren't yet ready to present the product, but we had no choice but to refine our venture. And we won." 
Their student project was also selected to be part of a show by renowned Canadian industrial designer Michel Dallaire at Quebec City's Musée de la civilisation in 2017–2018. "The show spanned his entire career, but there was a section at the end that offered ideas on the future of design, and our device was selected for presentation by a jury he chaired," she emphasizes. 
Tero's visibility attracted the attention of the media. Their student prizes, which until then had simply been in the form of recognition, were transformed into grants, particularly from contests held by Mouvement Novae, Défi OSEntreprendre and Bourse Pierre-Péladeau, as well as from the Ministry of the Economy and Innovation.
These grants enabled the pair to pay for the device's research and development. "We had a concept and a design, but no product," Coulombe explains.
Backed by their increasing notoriety, the two co-founders recently launched a crowdfunding campaign on Kickstarter, which ended on November 14 of last year. "We reached a million in a single day," she says, while explaining that they were surprised at how quickly they obtained financing, even though they had analyzed other successful campaigns beforehand in order to learn from them.
Their efforts served them well, since by the end of the campaign they had $1.75 million in their pockets. 
A solution to a universal problem
For the moment, Coulombe and Laliberté are supporting the project on their own, with Coulombe handling financing and administrative tasks, and Laliberté product development. While they've been able to count on help from a friend to manage their social networks and on entrepreneurial support groups, the pair will need to think about hiring another person in the coming year.
Their initial idea for Tero wasn't marketable. But after working with subcontractors in product development, Tero is now functional and enables a 90 percent reduction in waste volume without any unpleasant odours. The system uses heat to eliminate the  pathogens in food products.
They only need to put the finishing touches on a few remaining elements before delivering on their pre-orders, which have reached 4,300 units.
"We're working on establishing a production and supply chain," explains the president. 
Pre-orders will be fulfilled in two batches, one in August and another in December of 2020. The wider public will be able to purchase the product in 2021.
"Several small municipalities contacted us to discuss solutions they can offer their residents for managing waste," she states. 
Since waste management is a worldwide problem, the two co-founders hope to be able to offer their product internationally, though not without first acquiring protection for this new technology. 
Tero in Numbers
$250,000: Amount received in non-repayable grants
$1.75 million: Amount raised through crowdfunding
4,300: Number of pre-orders made during the crowdfunding campaign
WANT TO LEARN MORE?
Visit Tero's website
Picture: Sylviane Robini
(from left to right: Valérie Laliberté, Elizabeth Coulombe)