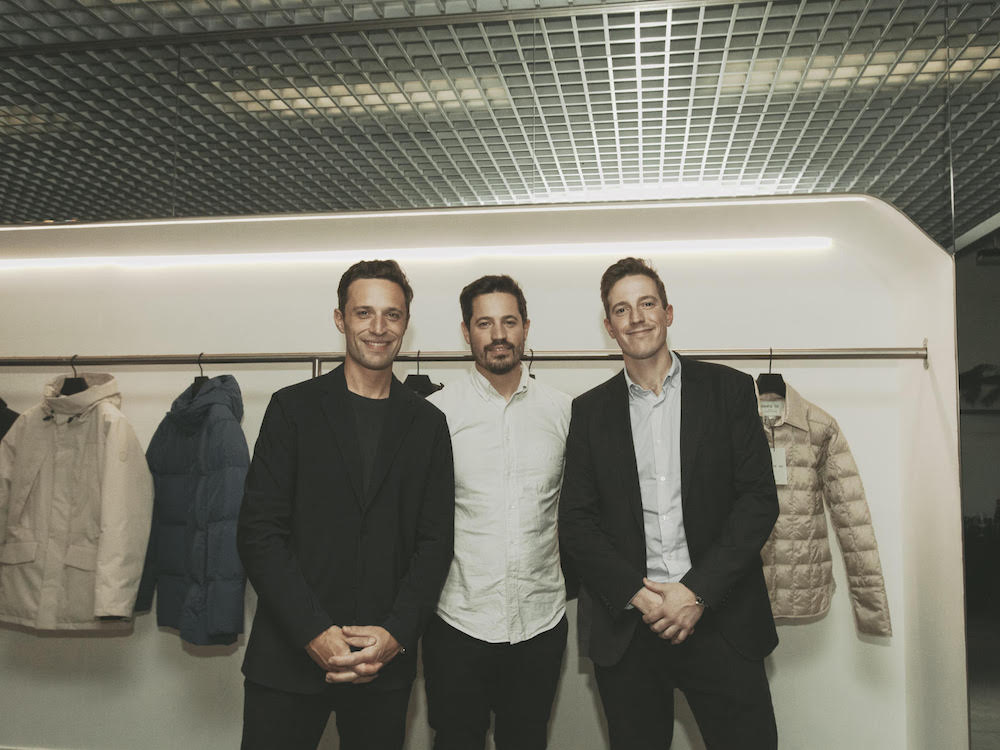 Quartz Co: Knowing When to Seize Opportunities
Jean-Philippe Robert's Story
Monday, December 12, 2022
Jean-Philippe Robert's vision was clear: he wanted to acquire a company offering a high-end product made in Canada, but with strong international potential. When the opportunity to buy the winter coat company Quartz Nature presented itself, he seized it. That's how Quartz Co's story began.
Jean-Philippe has always had an entrepreneurial streak in him. During his university years, he launched a T-shirt company with his brothers, François-Xavier and Guillaume, also students at Polytechnique Montréal. A few years later, Quartz Co became their new joint project.
TAKING ON THE CHALLENGE OF A BUYOUT
Quartz Nature was founded in 1987 in St-Hyacinthe, Quebec. In 2015, Jean-Philippe and his brothers made a move to acquire it because the company ticked all the boxes of what they were looking for. The factory and offices were later moved to Montreal. "We modernized the company and revamped its brand image and products, but we kept its original know-how," the entrepreneur said.
"The challenge when you take over a brand is to respect its heritage while making it evolve."
Jean-Philippe explained that it's essential when buying a new business to honor the existing customer base while working to develop a new one. "It's a balance that's not easy to find," he said, adding that the process requires a lot of trial and error. The new owners were confronted with a clientele that questioned their experience, but they went ahead with their heads held high. Jean-Philippe has always kept his eyes on his goal of "respecting the heritage of the product while reaching new markets."
ENSURING GROWTH WITHOUT FORGETTING ITS ROOTS
And what is Jean-Philippe's strategy in terms of growth and acquisitions? Obviously, the entrepreneur wants to continue to expand Quartz Co internationally. He wants to focus on specific countries to ensure that "investments in money and resources are consistent". However, he emphasizes that the Canadian market will always be very important to his company.
Having a home base in Montreal is a priority for Quartz Co. A workshop and boutique near the company's offices allows people to easily try on coats and build a direct relationship with the brand. "I like to provide a unique shopping experience where customers can step directly into our world. It's an immersive experience," Jean-Philippe said.
"We invested heavily locally because we felt it was important to have our first stores in our home market."
As evidence of its desire to build on its local foundation, Quartz Co acquired Montreal-based WANT Les Essentiels in 2021. "There are similarities between the companies' values and in the way they think about products," Jean-Philippe explained. There is a great synergy between the departments of the two organizations, in terms of product design, marketing, sales and administration. However, the two brands are aimed at relatively different audiences. The goal now is for them to have "growth that is unique to each."
GROWING RESPONSIBLY
A common thread in Jean-Philippe's entrepreneurial journey is that he seizes opportunities. That's what led to the purchase of Quartz Nature and the acquisition of WANT Les Essentiels. Nevertheless, one must err on the side of caution.
"You have to remain responsible in your growth and careful in your decisions."
The businessman never forgets the basics of sound financial management, which is a piece of advice he wants to pass on to people wanting to start a business. "It can be easy to get carried away and reinvest quickly, but the economic context can fluctuate a lot," he explained, as the last few years have shown. Jean-Philippe insists on the fact that it's important to keep a certain amount of flexibility in order to be able to act quickly if events come up and thwart our plans.
One must keep a sharp eye and know how to recognize an opportunity that shouldn't be missed. Over time, you learn to say yes or no at the right time. This approach will allow Jean-Philippe and Quartz Co to gain more market share in their category.
THE COMPANY IN NUMBERS
100 employees
30% annual growth
Distributed in 10 countries
LEARN MORE
Visit Quartz Co's website to learn more about its quality winter coats and accessories made in Canada.