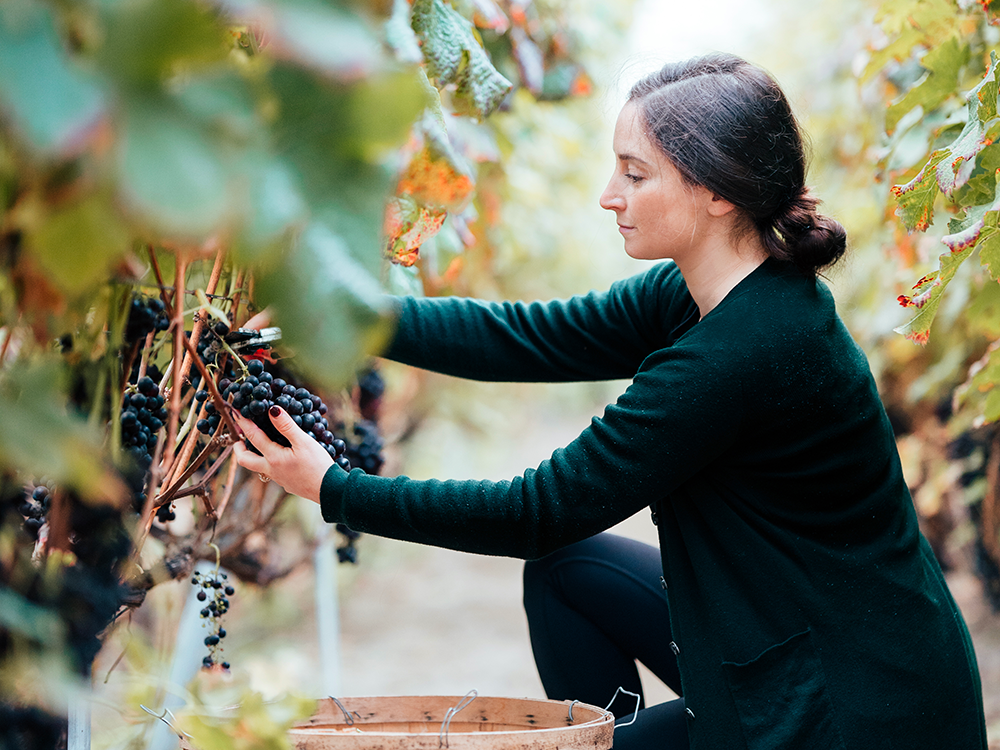 Vins Zyromski: The Greenhouses Where All Things Seem Possible
Julie Zyromski's Story
Saturday, September 10, 2022
What was supposed to be Frank Zyromski's retirement project turned into a family business. Today, Vins Zyromski is the very first vineyard to grow "vitis vinifera" grapes in greenhouses in Rivière-Rouge, in the Upper Laurentians. We talked about it with Julie Zyromski.
Julie Zyromski, Frank's daughter, says even she didn't really believe in the project, though her father had been developing it for years along with Marc Desaulniers, a sommelier colleague who'd worked for Osoyoos Larose, one of the most renowned vineyards of the country.
"When I tasted how good the cuvée was, my first reaction was to think that it couldn't possibly be a Quebec wine," Julie said, recalling how Quebec wines had a less stellar reputation back then.
But let's take a step back.
GROWING THE VINEYARD RETIREMENT PROJECT
Almost ten years ago, Frank Zyromski—Julie's father—a prosperous horticulturist who was well known in the farming community, started his retirement plan and began growing vitis vinifera grape vines in greenhouses north of the 46th parallel, in Quebec's Upper Laurentians. At the time, people thought success would be improbable at best. Frank tried it anyway.
Frank convinced his daughter Julie to work on his project alongside him. Then he met Marc Desaulniers, who joined the team not long afterwards. While Frank and Marc experimented, often unsuccessfully, Julie completed a master's degree in Barolo, Italy, with a specialty in communications in gastronomic sciences. Couples years later, when Julie returned to the Laurentians, Frank and Marc's wine had been perfected, and it was time to get serious. The result: the trio launched Vins Zyromski.
"Making wine isn't romantic the way they make it seem in the movies. It's a lot of hard work. There's a good reason European vineyards are passed down from generation to generation."
What came next happened quickly: Vins Zyromski got its liquor license, developed its brand image, was launched on social networks, and most importantly became the only vineyard in the Upper Laurentians to grow vitis vinifera grapes, like Merlot, Chardonnay, and Pinot Noir. In the summer of 2021, the company's first bottles were sold through restaurants in the Laurentians and on the shelves at specialty stores. In 2022, the company just keeps growing.
THE NEED TO ADAPT TO CLIMATE CHANGE
Anyone who has their feet in the wine world agrees: it's all about the climate. The ability to control ambient temperature is just one reason Frank chose to grow grapes in greenhouses. He can grow grapes that would never survive a Laurentian winter outside.
"Climate change has major repercussions on growing vines and food in Quebec soils. Everyone is going to have to adapt to changing temperatures, including us."
Even using greenhouses can't guarantee vines will be safe from global warming. In the heat wave of May 2022, for example, Julie says their vines grew *too* much. The company found itself with fruit produced two months ahead of schedule, and no employees on hand to tend to the vines. Luckily, she was able to find good solutions.
DON'T BE AFRAID TO GET YOUR HANDS DIRTY
Julie's road from slight skeptic to seasoned entrepreneur has had its share of twists and turns. Her secret for success is to be ready for anything, and never be afraid to get your hands dirty; you need to know your team's job inside out.
"When you start a business, you can't just be a visionary. If you refuse to sweep the floor or bottle your product yourself, you can never truly know your business."
Julie inherited this view of entrepreneurship from her parents, who were always quick to help employees in their greenhouses any time it might be needed.
GOING THE DISTANCE: FROM THE UPPER LAURENTIANS AND INTO LAVAL
Vins Zyromski recently added vineyards in the greater metropolitan area, on St-Rose Boulevard in Laval, to grow native grape cultivars that they plan to use to make blends. Julie also recently purchased a restaurant in Mont Tremblant: La Petite Cachée. At the time of writing, the 34-year-old entrepreneur confirmed that there will be a rapprochement between the two companies, but she's staying mum on the details for now. We'll just have to wait and see what will happen next in the greenhouses where all things seem possible
THE COMPANY IN NUMBERS
100,000: the price of a smart greenhouse in 2020
21,000: the number of square feet of vitis vinifera vines
3,000: the number of bottles produced per year by Vins Zyromski
10,000: the number of bottles produced in Quebec using greenhouse vines
LEARN MORE
Visit Vins Zyromski's Facebook and Instagram pages to follow the vineyard's evolution and find a point of sale.