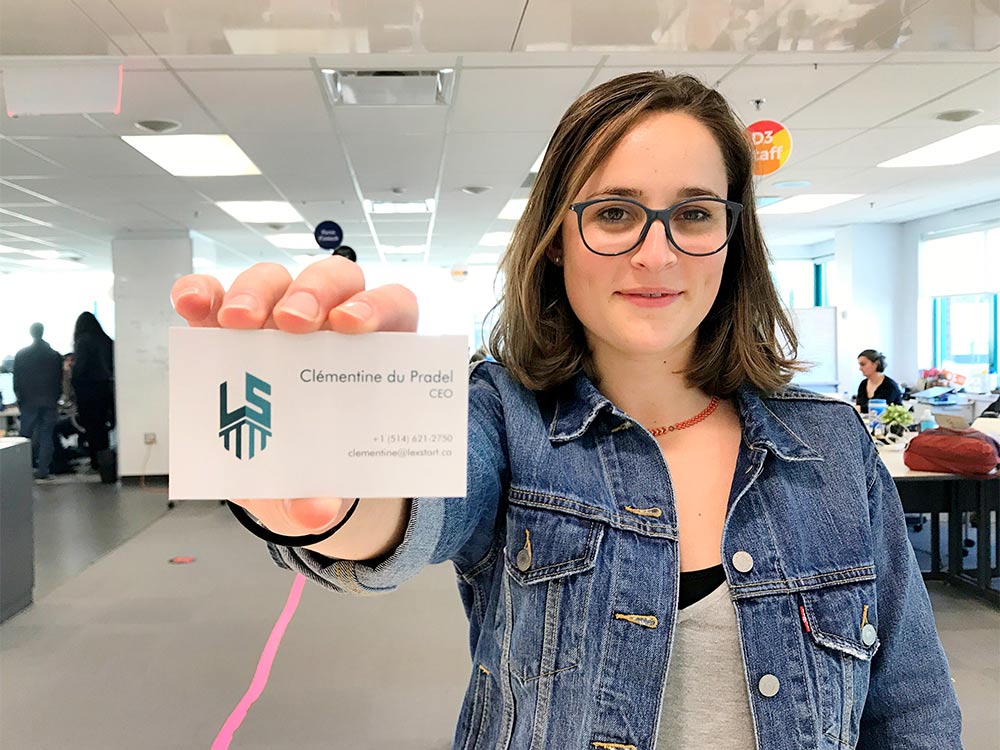 Be more successful by connecting with the entrepreneurial community
Clémentine du Pradel's Words of Wisdom
When I turned 18, I wanted to be a professional working in the finance industry and to leave France in order to broaden my horizons. Although I never ended up setting foot on Wall Street, for the past eight years I've been living in Montreal, where I discovered my passion for entrepreneurship while surrounded by friends who were entrepreneurs, managing a student association and learning that it was possible to work and study at the same time.
Once I had my degree in finance and economics in hand, I cut my teeth working with the entrepreneurs at SAJE Montréal, where my mission was to help create and develop their business. This experience allowed me to confirm that I did indeed have an interest in innovation and entrepreneurship.
Unlikely encounters are often the most enriching.
Just over a year and a half ago I met Gilles and John-Robert, two lawyers passionately involved in legal tech. They offered to develop Lex Start, which at the time was nothing more than an idea, but although they had the desire to get the idea on its feet they were not able to quit their jobs at the time. So today I am the CEO and a partner at Lex Start.

The idea behind launching lexstart.ca was to offer savings on legal fees to businesses in development and to create a synergy between entrepreneurs and lawyers—this is what pushed me to join the team. I was hooked on the idea from the very start, since this was a problem I had encountered often while working with the entrepreneurs at SAJE. By offering legal contracts for a flat fee that were adapted to the needs of entrepreneurs who were starting a business, Lex Start guaranteed quick, high-quality service.

Last October, I met with the team from District 3, Concordia University's co-working space and start-up accelerator, in order to present our service offering and discuss a possible partnership. A few months later we applied and joined District 3's Product Market Fit (PMF) program. This connection, amongst other things, allowed us to evolve in terms of innovation and our understanding of the market.

Our experience with District 3 was not only beneficial to the development of our company, but also for the development of business. The partnership I had first pitched to the District 3 team was finally accepted at the end of last February. From now on, start-ups sharing the District 3 co-working space will benefit from a discount on the legal contracts we offer.

I have really enjoyed the experience of being part of an accelerator that allows me to be surrounded by a team of mentors and professionals and to benefit from a lot of resources, such as training. The team's approach at District 3 is very current and encourages entrepreneurs to always strive to improve, and also to take a step back in order to make better decisions.

Also, being friendly with other start-ups allows me to exchange views with others and evolve in a community of people facing similar challenges and realities. Sometimes your morale can get a little low, and at times like that it's essential to share your experiences with others so that you can return to working with renewed spirit. It's like an entrepreneurial ecosystem!