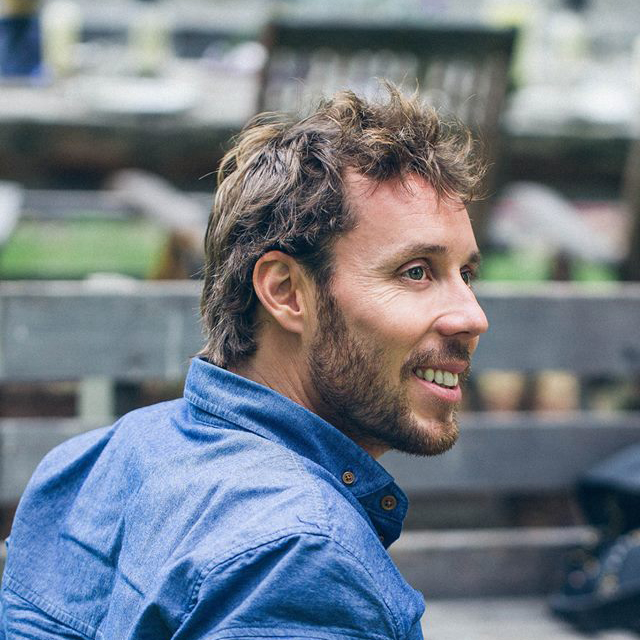 Serving the food of tomorrow, one bite at a time
David Côté's Story
An original and forward-thinking entrepreneur, David Côté had the vision to connect business with well-being. By founding the raw vegan chain of restaurants Crudessence and co-founding Rise Kombucha fermented teas, David turned his desire to improve eating habits into successful business ideas.
David Côté loves to travel and considers himself a graduate of the university of life. It was during a stopover in Hawaii, where he worked on an organic farm, that he discovered the animal product–free vegan diet. While undertaking an extreme hiking trip from Quebec to Mexico, David fuelled himself solely with live (meaning raw) food. The long trek triggered a big idea. He envisioned creating a restaurant that was dedicated to organic food and sustainable practices and that only served healthy, raw food. Upon his return to Montreal, David resolved to share his passion by starting the first Crudessence restaurant.
Sharing the passion
His idea had humble beginnings. "I had negative $3,000 in my bank account. I was making kombucha in my closet and the food in my home kitchen. My friend Mathieu Gallant, who I met on a previous trip to Hawaii, was helping me get started. We delivered food throughout the city on our bikes. We had no entrepreneurial experience, we just believed in the idea and it ended up taking off."
Within months, Crudessence went from six volunteers to 30 employees. The range of vegan products expanded and their ready-to-eat services bloomed.
Shortly thereafter, David began teaching cooking classes to pass on his knowledge of the benefits of raw and organic food. Not content to be merely an entrepreneur, David expanded his role to teacher through his many books on raw food as well as by founding a cooking academy.
Learn to make mistakes
Two years after opening his first business, David Côté launched Rise Kombucha with Mathieu Gallant. The two businesses coexisted under one banner before becoming two distinct and independent brands.
David diversified his endeavours by relying on his intuition and instinct. "I learned quickly because I made every possible mistake. One needs to be wary of outside advice. Personally, I received a lot of advice that led me in the wrong direction."
" You become an entrepreneur by facing problems and finding solutions. "
 David Côté
David Côté seeks to better nourish his fellow citizens by revising current eating practices with new and original ideas. This was what led him to visit schools across the province in order to serve up winter smoothies, reigniting a taste for and interest in seasonal vegetables.
Live happy by living raw.
Bon appétit!
What is an organic product?
Source : Conseil des appellations réservées et des termes valorisants
In Quebec, a food is said to be organic when its production is free of:
pesticides and herbicides
growth hormones
antibiotics
dyes
preservatives
artificial flavours
These production standards are applicable to agriculture, food processing and animal husbandry.
Glossary
Source: Crudessence / Ministry of Agriculture, Fisheries and Food of Quebec
Veganism: A food practice which excludes all animal products and other animal-derived substances.
Living food: A raw food, whether that be fruits, seeds, juice or meat. Raw foodism is the diet most associated with this term.
Kombucha: A vibrant and energizing drink made from the fermentation of tea using a culture of micro-organisms. 
Crudessence in Numbers
105 :

Number of employees

3500 :

Number of students attending Crudessence Academy every year

5,000,000 :

In Canadian dollars, Crudessence's revenue for the 2015 fiscal year

 
Rise Kombucha in Numbers
10,000,000 :

In Canadian dollars, sales of Rise Kombucha for the 2015 fiscal year

0,1:

The percentage of alcohol in Rise Kombucha. Since it is a living drink, it continues to ferment in the refrigerator and can reach 0.5% alcohol.

 
Want to know more?
Visit the Crudessence et Rise Kombucha websites