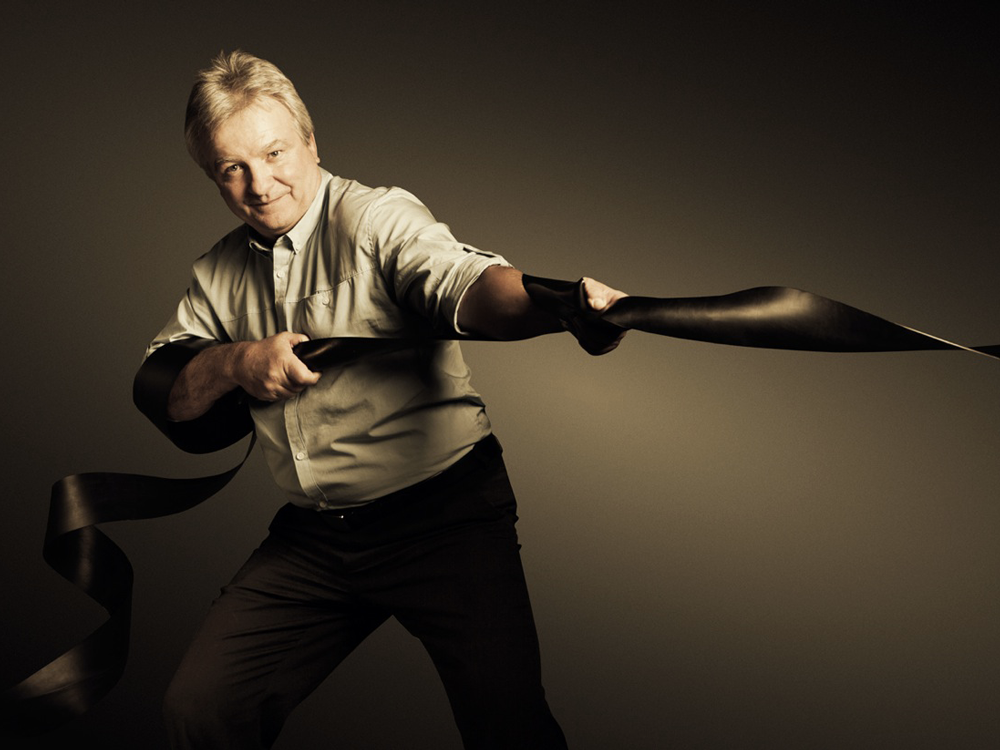 Solmax: Covering Success
Jacques Côté's story
In spite of its modest beginnings, Jacques Côté was able recognize and seize the opportunities that would eventually make Solmax a worldwide leader in geomembranes. Today, the entrepreneur is preparing his successor to take over his company whose reach spans over 60 countries.
In 1978, the masses were pretty oblivious to geotextiles - Jacques Côté was one of the few in the know. Recruited by Texel, a Beauce company, to promote their new product, the young civil engineer quickly became an expert in the waterproofing membranes used to avoid soil contamination and to stop erosion. "I worked there for three years before founding my own geomembrane distribution company at 26, Materials Technique Côté, the predecessor of Solmax," he recalls.
The businessman came from humble beginnings. Living in an apartment with his girlfriend, he was very pleased with $ 9800 bonus he received after his company's first year of operation. Not long after, a customer to whom he had just sold a geomembrane asked if he could install it. "In an instant, we became installers and not just distributors. Eventually, we became very good at it, "he says.
In 1994, a US law obliged all landfills to acquire geomembranes, Solmax became one of the largest installers of geomembranes in the world. The company was 300 employees strong with presence in New York, France, Portugal, Chile and Venezuela. The momentum they gained allowed the company to launch the manufacturing of products intended for solids and fluids containment solutions.
"The opportunities came and I jumped on them. To be an entrepreneur means keeping your eyes on the cutting edge while specifying its relevance to your business over time, "he thinks.
On the tatami
In 2007 Solmax unexpectedly retired its installation services. Fierce competition, made the sector less appealing. From then on, the company exclusively devoted itself to manufacturing, an area that continues to evolve. "I have always enjoyed long-term strategy and planning. It's like when you practice judo: you have to use cunning and finesse to surprise your opponents, "says the 5th Dan black belt.
According to him, the parallels between the sport he's been practicing since 1972 and entrepreneurship are numerous.
« I like comparing business to a dojo. On the tatami, resources are limited and you have to act quickly and wisely at the same time. The larger competitors really force you to push your limits. If you do not step out of your comfort zone, you may not get out of there in one piece!  »
Jacques Côté
It is this analogy that he uses with the young entrepreneurs he meets at the École d'entrepreneurship de Beauce. For 24 hours, he acts as a coach to athletes who are preparing to deliver the performance of their lifetime. "I support them by telling them that they have to make as many decisions in an hour of judo as in ten years of entrepreneurship."
Succession
At 61, Jacques Côté is thinking more and more about his successor. He believes that time will be on the horizon in about eight to nine years. His wish is to keep Solmax in the family. "I started saying it about fifteen years ago and I still think so today," he says.
His three sons, Francis (31 years), Gabriel (30 years) and Dominique (25 years) have happily expressed their desire to take over the family business. Jacques Côté likes to say that they are currently training to do business within their own companies. "The oldest has been running a geosynthetic product installation company since 2011 (FC Liners Inc), while the youngest just started a mechanical engineering company (Mechanical Mobile Expert Inc.)," he says.
Recently, he and Dominic integrated the 2016 cohort of the Intrapreneurial Program organized by Intrapreneurial Initiative, which supports two generations of entrepreneurs in the creation of a new business project. The experience eventually allowed Dominic to get his hands on the financing needed to set up his business. "Following this path allowed us to spend a lot of time together communicating and fine-tuning our business plan," says Jacques Côté.
See also : How to become an accomplished intrapreneur
Several mechanisms have been put in place in anticipation of the business transfer. A family council is organized twice a year to address heritage issues. Each of the three brothers is invited for a "cycle" (from the tabling of the budget to the approval of the financial statements) on Solmax board of directors as observers.
"They see how things are going and realize that the challenges are greater for Solomax than for their young companies," says the entrepreneur. Even if the road to Solmax's succession is paved with issues, the Côtés will proudly continue the work their father started by maintaining a thriving and growing business.
Solmax in Numbers
156: employees
100: Approximate annual sales in millions of Canadian dollars
5: the number of continents where the company is present
3: the number of factories operated by Solmax
Want to know more?
Visit Solmax's website
Photo Credit: École d'Entrepreneurship de Beauce