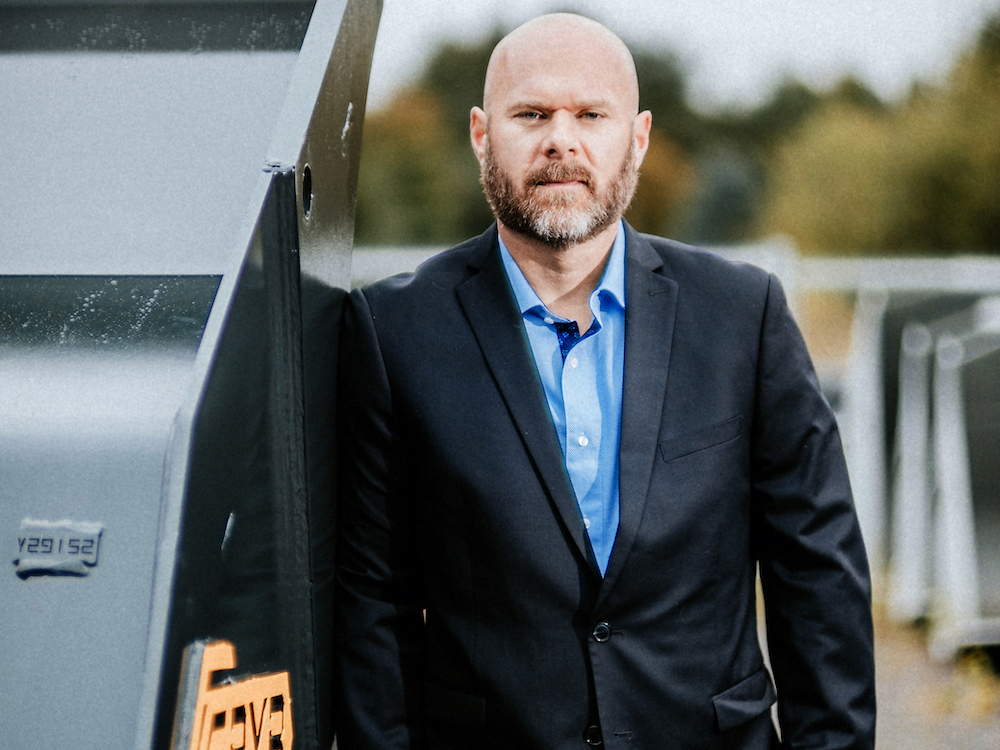 GRYB: Creating Business Synergy Through Acquisitions
Rémi Beaudoin's Story
Since 2007, GRYB has been supplying specialized attachments for heavy machinery. Based in Victoriaville and run by Rémi Beaudoin, the company has experienced rapid growth in recent years thanks to numerous acquisitions, particularly in the United States.
Through these acquisitions, GRYB was able to open itself to new markets and industries such as excavations, demolitions, steel and forestry. "All of our acquisitions are made with the desire to create a greater synergy."
A GROWTH STRATEGY RELYING ON ACQUISITIONS
Rémi started his entrepreneurial journey with the Anderson Group, an agricultural machinery company in Chesterville founded by his father, Yvon Beaudoin. The father-son duo remained its owners until 2007, when they sold their shares to create Groupe R-Y Beaudoin—which became GRYB in 2016.
"Initially, we bought an excavator and dump trucks to have fun like kids in a sandbox," explains Rémi, "but receiving an excavator could take a day while getting its necessary attachments could take up to 20 weeks." So he and his father decided to produce their own attachments, and saw an incredible business potential. "There was a clear need that had yet to be fulfilled in this area."
In 2015, GRYB went from a 10,000-square-foot building to a 23,000-square-foot space and acquired their first business, Magnet Québec. The experience inspired them to make more acquisitions. "We added an electromagnet to our products, which introduced us to the market of demolition and auto recycling (commonly known as scrap yards)." In fact, in 2019, GRYB acquired Bateman Industries, an Ontario-based company, to solidify its presence in this industry.
"Each acquisition takes us one step further, and that's for all the companies under the GRYB umbrella."
A SENSE OF BELONGING DESPITE THE DISTANCE
In 2020, GRYB went full steam ahead with its acquisitions. The company bought Winkle Industries in Cleveland, Ohio, and SERCO Loaders in Two Harbors, Minnesota. In addition to opening the doors to the American market, these allowed Rémi to penetrate the steel and forestry industries. Boosted by its entry in the latter sector, GRYB created Shearex in 2021, a new subsidiary in Roxton Falls. An industrial mulcher manufacturer closed its doors in the Montérégie Municipality to concentrate its operations in the United States. GRYB jumped at the opportunity to hire several of its employees and develop a line of forestry equipment. In 2022, GRYB acquired RAD Technologies in Thetford Mines, Dalkotech in Sherbrooke and Eco-Track in Quebec City. Over the years, the company has grown from two employees to more than 1000.
Acquisitions are like adding a new string to your bow. From day one, you will find yourself with new products, new knowledge and a team of competent people who will continue to run the business. However, there are still some challenges to overcome: "managing 100 employees versus managing 1000 is not the same thing!" The company has therefore set up an integration team to support each business acquired by GRYB.
"We don't mix departments very much, except for purchasing and sales in order to create a greater synergy. Otherwise, we let the acquired companies do their own thing."
LISTENING TO YOUR TEAM AND YOUR CUSTOMERS
Aside from inflation and rising prices, the labor shortage is certainly an issue that GRYB must keep its eye on. "Employee wellness is something we've gotten much better at. We were already very strong in employer branding, but we've been pushing that even further in the past three years." This concern for the well-being of their staff translates into time off, more flexibility, small gifts, group outings or family days at work. "We have to listen to our people," says Rémi.
This openness not only applies to GRYB employees, but also to GRYB's clients. To manage business growth, Rémi advises entrepreneurs to listen carefully: "Customers tell us exactly what they need. The best advice, I think, is simply to keep your ears wide open. It's what makes all the difference." The information we can gather helps us improve as a company, attract more customers and better adapt to the market. "That's how we started GRYB. The despised 20-week delay to get your hands on machinery attachments … we listened to our industry's needs."
To get that tactical intelligence, Rémi and his sales team often travel to trade shows to meet "real people". The idea is not to bombard them with direct questions, but rather to pay attention to what customers mention during a normal conversation. For example, if they have a big contract coming up or if they've had roadblocks with a competitor. In the next few years, GRYB plans to expand its presence in North America from 25 to 30 sales representatives. This year, the company also made its first entry into the European market and was very well received, which calls for an enhanced sales force there as well.
A FEW FIGURES
8 manufacturing plants, including five in Quebec, two in the United States and one in Ontario
1000 employees in all companies
More than 250 million dollars in annual sales
525,000 square feet in all buildings
65,000 heavy equipment products designed per year
10+ countries served
LEARN MORE
Visit GRYB's website to learn more about their heavy equipment attachments.